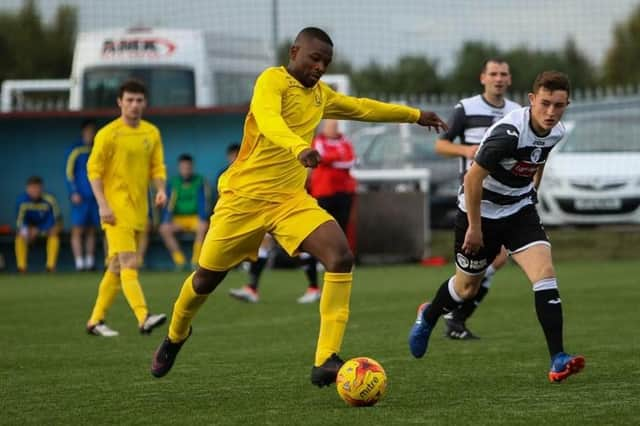 Arnie Kasa is a combative midfield player (Submitted pic)
But step forward Arnie Kasa, the Linlithgow Rose midfielder whose great-grandfather Joseph Kasa-Vubu was appointed the first president of African country DR Congo in 1960, serving for five years, 146 days.
Ex-Kelty Hearts midfielder Arnie, 28, told the Journal and Gazette: "It's something that I'm really proud of.
"When I got a Czech passport my surname had changed to Bembo (how he was known when he played for Kelty Hearts). Now I've managed to change it back to my father's surname which is Kasa.
"That was one of the main reasons I was adamant to change it.
"When I signed for Linlithgow I asked them to put my name as Kasa for anything going on social media."
And it wasn't long after joining Rose last November that Kasa was making himself known for his goalscoring prowess!
For he blasted home a stunning second half winner from 30 yards to earn his new team a 2-1 home league victory over Newtongrange Star on his debut on November 28.
"It was a while since I had actually played for Kelty Hearts," Kasa said.
"I played in the pre-season but then I didn't play during the season so I just wanted to get away and show what I could do on the pitch.
"In that game against Newtongrange we were leading 1-0 and then I made a mistake that let the guy in to make it one each.
"So I felt that I had to compensate for that mistake. The ball fell to me (after a long free-kick into the Newtongrange box had been cleared) and I actually wanted to pass initially but I couldn't see anyone that was wanting the ball or anyone that was in a good position.
"So I just decided to go for it and I just went for the strike. It was good to see it going in.
"That was one of the best I've scored. In terms of starting for the team for the first time, for me that was a great introduction.
"It felt good being able to play again. The goal was a surprise to everyone because I'm not known for my scoring abilities." ​​​​