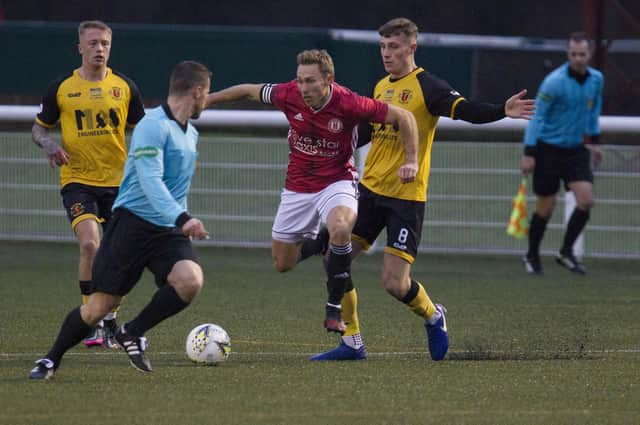 Danny Galbraith in action for Gala Fairydean against Annan Athletic last season (Pic by Bill McBurnie)
Galbraith, 30, who initially played youth football at Hearts, was then at Old Trafford between 2006 and 2009.
In his first season at Man Utd, Galbraith was part of the side that reached the FA Youth Cup final, playing a key role on the left side of midfield, before they lost on penalties to Liverpool.
In the previous two-legged semi-final against Arsenal, Galbraith played in front of a record attendance of 38,187 at the Emirates Stadium and set up the winning goal for Danny Welbeck in the return leg at Old Trafford.
He featured for the reserves at the end of his first season but his progress was stalled by a series of injuries, however, and he never made an appearance for the Manchester United first team. He had suffered ankle, knee and groin problems, the last of which prevented him from playing for 10 months and he joined Hibs in summer 2009.
After 52 Hibs outings between 2009 and 2013, Galbraith served Limerick, Gillingham, York City and Edinburgh City before arriving at Gala Fairydean, whom he has played for since 2019.
Now the latest chapter of his career has Galbraith at Bo'ness, much to the delight of BU gaffer Max Christie.
Christie said: "Danny signed for Man United from Hearts as a kid, went to Hibs, got badly injured and is now back healthy again.
"Over the last couple of years, for me he's been the best player in the Lowland League. So to have Danny on board, we're delighted."
Christie has also brought in Camelon's John Miller as assistant manager and added Lewis Hawkins from Tranent on pre-contract deal. As this paper revealed recently, former Hibs defender Darren McCormack, 32, is also joining Bo'ness on a pre-contract.
"Lewis was the captain of Tranent Juniors," Christie said. "And when I was there he was my captain.
"Darren is at a good age, he's a fit lad.
"We're just pleased with those three signings. They are really experienced boys that have played at a high level.
"The expectation level is for us to be up challenging at the top of the Lowland League next season.
"I think after seeing Kelty beat Brora 2-0 on Tuesday night and miss two penalties, I expect Kelty to win that play-off and go and beat Brechin.
"So that will make the top end of the Lowland League, not anybody's league, but there will be a few teams thinking they can win it, like East Kilbride, Bonnyrigg. It will be a much less clear favourite I suppose than Kelty, who've kind of been at the top of that league for the past few years along with Bonnyrigg who'll be favourites you would have thought, along with East Kilbride.
"We just hope to have a competitive team out there."
Bo'ness have now signed nine new players this close season, with departures also including Stuart McFarlane, Brian Ritchie, Will Snowdon, Ross Campbell and Ryan Adamson.