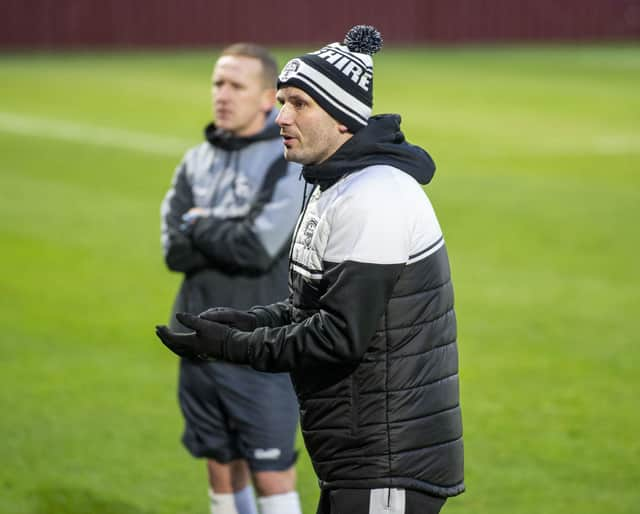 East Stirlingshire manager Derek Ure will continue in the job for the 2021/22 season (Pic: Lisa Ferguson) East Stirling manager - Derek Ure Tranent Juniors vs East Stirlingshire. Scottish Cup First Round. 3:00pm, Saturday 26th December 2020. Foresters Park.
The Shire announced last week that the 36-year old would be returning as manager for the 2021/22 campaign along with vastly experienced assistant manager John Brownlie, player-coach Andy Shirra and Goalkeeping coach Norrie Bremner.
Speaking to The Falkirk Herald, Ure said: "It'll be great coming back for a normal season, we still have no inclination what it will look like but I'm hopeful the restrictions won't be anything like they are now.
"We're quite fortunate at Shire to have the backroom staff, committee and volunteers that help with the safe running of our club every week and I don't think people understand the level of dedication and effort that has gone into ensuring games were going ahead.
"We couldn't do our jobs without these people and sometime their hard work goes unnoticed but they are the heart and soul of the club and the coaches and players see that dedication and take that in to our games to go and try and reward them with three points."
Meanwhile, with the financial impact of the pandemic hitting football clubs across the world, Ure says they will not have the same budgets as in previous season to work with when recruiting players.
However, the club will still be aiming to compete as best they can and finish the Lowland League campaign at the top end of the table.
"Our budget will be less than what we have had previously but our aim will still be to make ourselves as competitive as possible," said Ure.
"An increased budget doesn't guarantee you will win anything and what we will try and do is get the best group of players in, it won't be the same expectations as previously but we are still aiming for the top end of the league table.
"All our player's contracts are up in the summer but a few have verbally committed to next season and we're still in talks with several others.
"We're aiming to get the people that have agreed to deals formally announced soon and hopefully we'll get a bit more confirmation from others as well.
"Nobody has concrete stated they won't be back but we do have players exploring other options, they maybe want to hold out for the best opportunity they can get which is totally fair.
"What we need to do is build the best possible team we can put out and I'm confident we can build one capable of winning games of football."
Meanwhile, Ure has been pleased to see the players they loaned out to SPFL clubs in the past few months give good accounts of themselves.
Jordan Tapping and Jamie Dishington joined Edinburgh City in League 2, Sean Brown has been with East Fife in League 1 and captain Nicky Low has played a key part in Arbroath's Championship survival.
"Nicky's a top, top player that can play at that level no bother, as he has proved.
"Sean, from that chats I've had with him, has enjoyed his time with East Fife and learned a lot while Tappy had his time cut short by injury and Dish has struggled to get in to a wining team but both have been excellent when they have played."