Dundee Utd 2 Falkirk 2 - October 2011: Watch it Again weekend
Prayers answered in perfect penalties – Communities League Cup quarter final match report, October 27, 2011.
Saturday, 9th May 2020, 4:30 pm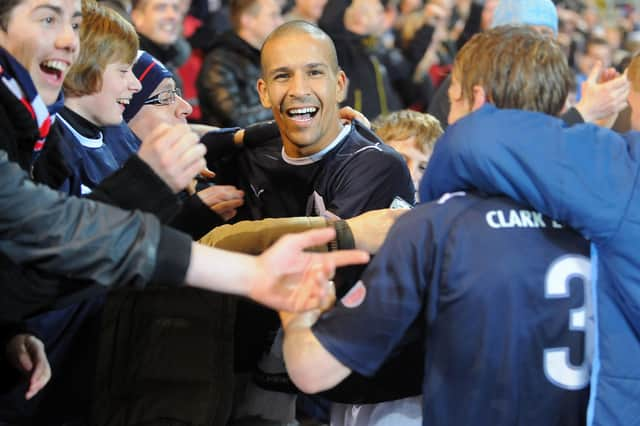 Falkirk players celebrate with fans after landing a semi-final place - they'd later draw Celtic.
Add Dundee United to the list of giantkillings inflicted by this young Bairns side. It's a growing list, and one that could yet be unfinished.
The Scottish football league said yesterday the Bairns would have to wait to find out who stands between them and another final after edging past the Arabs at Tannadice on Tuesday night.
It took penalty kicks to separate the sides after Farid El Alagui had given Falkirk the lead. Dundee United equalised quickly - then took the lead in extra time, but a late strike from Ally Graham - with three minutes to go – forced penalties. And they were perfect.
The match progressed to penalties.
Each of the spot-kick takers - Dale Fulton, El Alagui, Kallum Higginbotham, David Weatherston and Stewart Murdoch converted, capitalising on Willo Flood's miss that was blazed over the bar.
It was fortunate, and after pairs of crucial injuries and suspensions cut into Steven Pressley's squad forcing him to pick from the youngest squad in club history, the luck swung back in the Bairns favour.
Dundee United battered the Falkirk goal and only the inspired saves of Michael McGovern kept Falkirk in the game. The ratio of chances per team was around four-to-one in the home side's favour - but each of Falkirk's threatened to topple the struggling SPL side.
Eventually they caved, Moroccan hit-man Farid nodding the opener from Dale Fulton's first touch as a second-half substitute. That the score was blank to that 69th minute was down, mostly, to Michael McGovern. He made a stunning 24th minute fingertip save to lift Lauri Dalla Valle's goal-bound shot over the bar, and injured himself in the process.
Steven Pressley and Lee Bullen celebrate.
Blair Alston headed the corner off the line, and Stephen Kingsley did likewise later to a Scott Robertson strike as the Bairns held brave in an orange siege on their goal. More of the same marked the second half as Jon Daly, Johnny Russell, Barry Douglas and Dalla Valle were all foiled by McGovern and the tenacious defending of Darren Dods and the composed Murray Wallace.
Just as they had done against Rangers, the Bairns weathered the storm - then entered the fray around the hour mark, hitting the SPL opponents on the breakaway.
First El Alagui had a potential goal ruled out for offiside after Jay Fulton's lifted through-ball. Kieran Duffie charged from box to box after nipping away from a heavily reinforced Bairns penalty area but couldn't trouble goalkeeper Dusan Pernis. El Alagui could again though. It was one of the easiest headers the striker will score this season, thanks to Dale Fulton's precise cross, for his 14th in 15 games.
It was the highlight of the young sub's Bairns career
Johnny Russell fired an equaliser three minutes later with a goal that forced extratime. Dundee United's tails were up having grabbed their lifeline - but still they spurned chance after chance.
Eventually, Jon Daly took one, drawing McGovern off his line and slotting home.
The Bairns threw caution to the wind, going 4-3-3 with Ally Graham on in attack. Time ticked away, but the Falkirk fans refused to let hope fade and cheered through the final period of extra-time.
Kallum Higginbotham led the celebrations.
Graham wrestled Gary Kenneth for first-claim to a McGovern kick and won. He turned and fired past Pernis with three minutes to go. At the end of a two-hour duel it was remarkable that the likes of Stephen Kingsley, Higginbotham and Weatherston could still stand, but they stood tall and the Bairns looked the brighter as Steven Pressley roared at the team.
Another giant-killing followed with five perfect penalties by Dale Fulton, El Alagui, Higginbotham, Weatherston and finally from Murdoch. The scenario was pinched from last season. Falkirk provide one giant-killing at the Falkirk Stadium with a last gasp winner to earn an away tie against an SPL club. Said SPL club will endure a disappointing run-up to the game, have a manager under-pressure with the cup seen as temporary salvation, conjuring up a match with a confident Falkirk side, that is labelled a must-win.
For Aberdeen and Mark McGhee last season, read Dundee United and Peter Houston this term.
But in two exhaustive hours the Bairns re-wrote the script.
Hampden, this time, is within the First Division team's reach.