Denny Warriors FC and Warriors Premier League win best community project award at national ceremony
A district-led community project has been named the winner of the prestigious Best Community Football for All Project award at the 2023 Scottish FA & McDonald's Grassroots Football Awards ceremony, held at Hampden Park.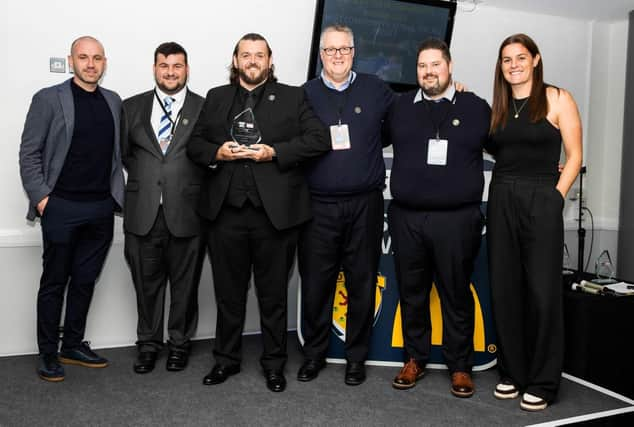 The award recognises and celebrate the incredible volunteers who dedicate countless hours to inspire those in the grassroots football community. The awards are now in their eleventh year and Denny Warriors FC and Warriors Premier League joins a long list of inspirational grassroots football heroes who have been recognised by the programme.
Denny Warriors FC and Warriors Premier League, the pioneering football initiative for overweight men, has become a beacon of hope and transformation for men in Scotland. Founded by Denny Warriors FC, this project was initially established to provide a second chance at football and a sense of belonging for those seeking to shed weight and rekindle their love for the sport.
What began as a local endeavour in Denny has now evolved into an informal league, spanning from Ayr to Edinburgh, with a growing number of teams. With 12 teams already under their banner, the Warriors Premier League has supported over 500 men on their weight loss journeys during their first season, fostering not only physical well-being but also invaluable mental health benefits.
Testimonies resound with gratitude, as men of diverse backgrounds share how the league has instilled self-confidence, offered a lifeline through depression, and provided a sense of community. Their remarkable work transcends football, significantly impacting lives and promoting mental well-being. The Warriors Premier League is a testament to the power of sport in transforming lives and fostering a supportive, inclusive community.
Scottish FA and McDonald's Grassroots ambassador Jen Beattie said: "Grassroots football and the many volunteers are the life blood of our nations game. I'm so proud to be here in Glasgow to honour these incredible winners.
"Projects like Denny Warriors FC and Warriors Premier League are a testament to their community and an inspiration to those looking to get involved in the grassroots game. The SFA & McDonald's Grassroots Football Awards are a special occasion and a chance to show how grateful we are to the hours of dedication volunteers put in to make football what it is."
Local McDonald's Franchisee Elliot Jardine is an avid supporter of grassroots football in the Falkirk area, and he added: "We are immensely proud to have a Grassroots Football Award winner from Falkirk, Denny Warriors FC and Warriors Premier League has shown amazing dedication to keeping the spirit of grassroots football alive and thoroughly deserves this award. It's great to see all of the winners celebrated at the national ceremony – they are truly the heart and soul of the grassroots game."
McDonald's is the longest-standing supporter of grassroots football in the UK, having celebrated Grassroots Heroes at the Grassroots Football Awards for 21 years. In addition to championing local grassroots heroes. Over the past year, 250,000 children enjoyed free football thanks to McDonald's, and will continue to grow year on year.
For further information on McDonald's involvement in grassroots football and to find out how your club could benefit visit www.mcdonalds.co.uk/football