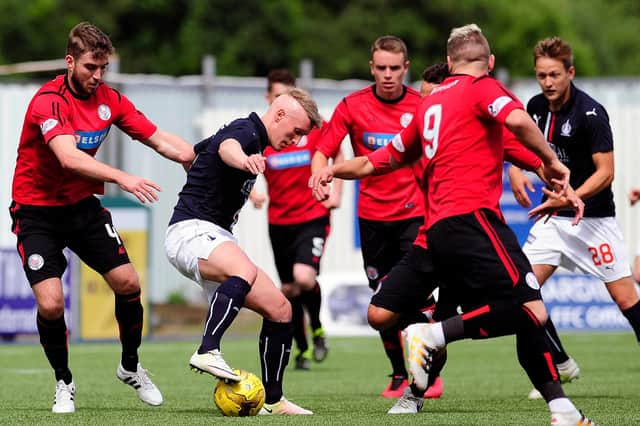 Darren McCormack (1st left) is pictured playing for Brechin City against Falkirk in July 2016 (Pic by Michael Gillen)
BU manager Max Christie said: "Darren has been a professional footballer since the age of 15.
"He's local to me. I know his dad, Terry McCormack, who's in the corner for Josh Taylor (light-welterweight world boxing champion). Terry owns the gym at Lochend and runs Lochend Boxing Club, so Darren has kept himself fit.
"Darren has played at a high level. He started at the Hibs, also played for Ross County, Airdrie, at Brechin in the Championship.
"So I'm pleased to have got Darren on board. We want to be right up there and be competitive next season and be at the top end of the league.
"It was an opportunity to get a really good player in. We are hopeful that his physical condition is still good."
Meanwhile, joining newly retired pair Will Snowdon and Ross Campbell in quitting Bo'ness United is striker Brian Ritchie who has joined Crossgates Primrose.
"It was a good offer for Brian," Christie said. "And it's local for Brian. He still has the commitment, his partner has just had a baby and he wanted to be closer to home.
"He was another one who had a big, big say in getting us promoted by winning the East of Scotland League.
"He scored some really important goals for us. He is another fantastic lad and I wish him all the best."
Christie is in talks with numerous players with a view to making further signings.