Current season needs to be completed one way or another says McCracken
Falkirk co-manager David McCracken says 2020-21's League 1 and 2 seasons must be completed one way or another.
Wednesday, 24th February 2021, 3:56 pm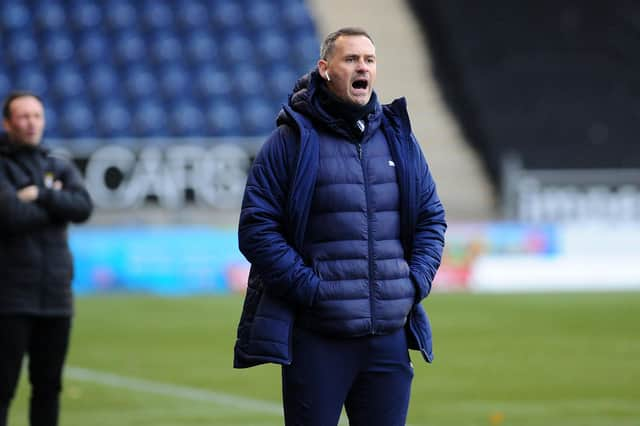 Falkirk co-manager David McCracken says the 2020/21 League 1 season needs to be played to a finish with promotion and relegation
The Bairns boss is hoping clubs get the green light to return next week and can move towards completing the current campaign in a way that ends with promotion, relegation and play-offs.
Many already feel there might not be enough time remaining to fulfil all 27 fixtures, but McCracken believes if they get back next week, that is still very much a possibility.
The 39-year-old said: "We want the games to be played and the season to be finished as normal.
"Obviously, to do that, we need to get moving soon and we're looking forward to some clarity from the Scottish Football Association and the government on that.
"We want to finish it off as it should be done, playing the full fixture card and ending the campaign with promotions, relegations and play-off matches.
"I think it's only fair that there is a period of a couple of weeks for all teams to get players back in and get training done, then looking forward to the first game getting played."
An update from the SFA is due on Monday.
Meanwhile, with players at the Falkirk Stadium on furlough and McCracken and fellow co-boss Lee Miller only in part-time, the pair have spent a lot of time over the past few weeks working with new sporting director Gary Holt.
He is someone that McCracken knows well from his time as a player with the Bairns as it was Holt who signed him for the club, having played with him at Wycombe Wanderers.
"I was out of contract after suffering a bad knee injury at St Johnstone," he recalled.
"Gary invited me to use the facilities at Falkirk to help with my rehabilitation, then from that a contract emerged.
"Gary put his neck out when he signed me. Not a lot of managers would have taken that chance after such a bad injury, so I'll always be grateful he did that.
"I think he is a great appointment for the club. Lee and I know him on a personal level, and he has challenged us a few times and we have challenged him, and that's healthy and will be a good thing for the club moving forward.
"He is looking to help us improve the club."