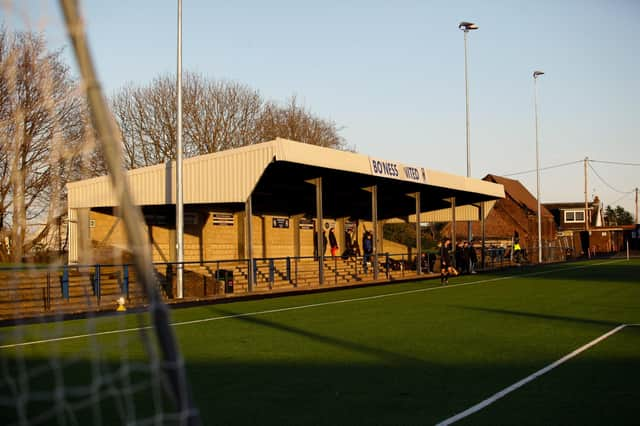 Newton Park, home of Bo'ness United FC (Pic: Scott Louden)
However, the BU's chief appreciates the situation is not unique to them and that there are bigger things going on in the world.
He also feels that the club are in a better position to deal with the shutdown now than they were last year having learned from the initial lockdown.
He said: "It is what is, the decision has been taken and we just have to live with it.
"We were taken aback a wee bit, we were adhering to every protocol the SFA put out.
"Yes we had the situation where players were travelling to different postcode areas for matches and we knew that situation would always be under review but we thought that would come from the government rather than the SFA.
"It's a little different this time, certainly in the first lockdown like most businesses and households nobody really knew what they were dealing with.
"Income and everything else stopped overnight but this time we have a better understanding, so we know what we're dealing with and how to deal with it and we know that bigger things are happening across the world."
Murihead says that for he and his fellow directors the focus has to be sustaining the club during these difficult times and ensure they are still there once supporters are back attending matches.
"Not having matches is bad for the mental health situation of our supporters, some guys live for their football.
"Even before lockdown a lot of time the only point they left the house was the football so being able to stream it not only brought in a bit of money but helped our supporters too.
"We have to look at everything though and our main aim is making sure we still have a viable club come the end of the season and we'll just have to cross certain bridges when we come to them with a bit more information."
Meanwhile, an update on if players can start preparing for matches again is expected next week and Muirhead says that the longer the shutdown goes on the less likely it is they will be bale to play the full season.
"There's no getting away from it, I don't think any football will be played till mid February at the earliest because the players will need a period to get up to fitness.
"When you look at the current situation for us, having played only ten games, we still have a full schedule plus the challenge cup.
"Looking at that you could have 24-25 games to play in, the worst case scenario, from March.
"The Lowland League has two or three options they are looking at for when and if we can get back playing.
"They're keeping an open mind but obviously it all depends on when we can start playing again but if it is a full schedule it will be difficult for any team."