Christie says BUs will be competitive next season
Bo'ness United manager Max Chrisite says he and his players are excited to get their maiden season in the Lowland League started.
Friday, 31st July 2020, 12:30 pm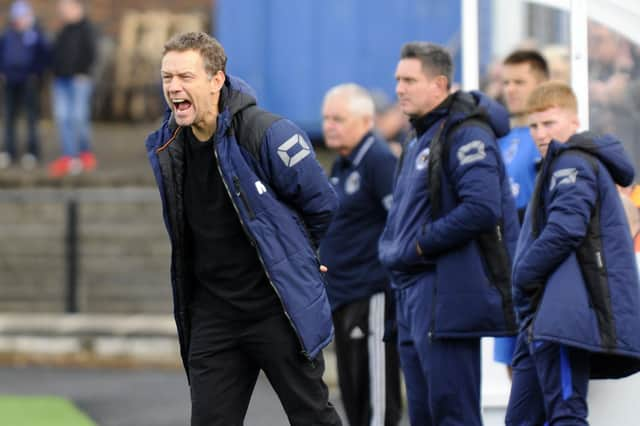 Pic by Alan Murray; 19/10/2019; Bo'ness Utd FC v Sauchie Jnrs FC; Bo'ness; Newtown Park; Falkirk District; Scotland;
The Bu's received final conformation last week that their place in the fifth tier had been confirmed and, while fixtures for the season including a start date are still to be announced, everyone at Newton Park is eagerly looking forward to the eventual kick off.
Speaking to the Journal, Christie said he expects his side to be competitive in their inaugural season.
He said: "It's great to get it finalised and we're looking forward to a new league and new grounds to visit.
"East Stirling will offer us something like a local derby as will Bonnyrigg, although not to the same extend as a Linlithgow Rose, and there will be plenty other good games as will some others.
"Our squad is fairly well shaped at the moment, we've brought a couple in but are always on the look out to improve but right now I'm happy with what we've got.
" We won't give ourselves any targets but I think we will compete well, we have a good bunch of players and we think we're more than capable of being competitive.
"We've got players who have competed higher up the leagues and guys who have been here a long time with loads of experience so we hope that will stand us in good stead.
"We're a brave bunch and will be going to places to have a go.
"We will have the intention to win games and we won't have an inferiority complex going to these teams who have been doing well.
"We're a successful club and expect to be competitive."
Meanwhile, the BU's manager has also confirmed plans are in place for players to return to group training on Tuesday.
He said: "I think we will start training next Tuesday all being well so that's us now starting to get geared up.
"Right now it's just a case of planning how it is going to look and seeing what is doable."