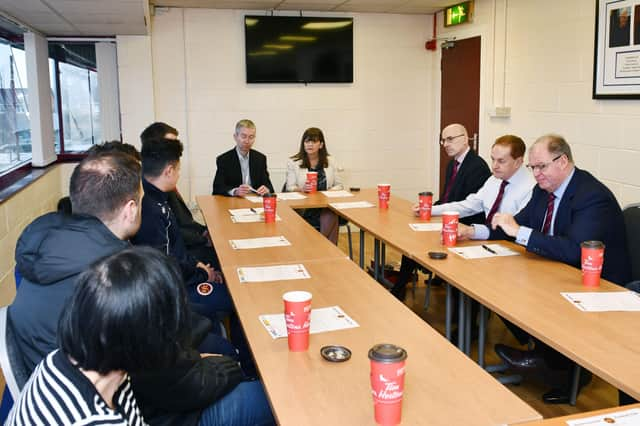 Stenhousemuir chairman Iain McMenemy. Picture: Michael Gillen.
As we all continue to adapt to living in lockdown, the news from the First Minister that football will not be returning anytime soon was not unexpected.
Nevertheless, it always seems much more real when it comes in the form of a Government announcement.
At Stenhousemuir we have been planning for life without football unti the end of summer. However, we now find ourselves planning for a potentially longer period than that. Once again, this will have a negative impact on club finances.
We have fixed costs that must be honoured. Whilst we have the majority of staff and players on furlough, this scheme is due to close at the end of June.
The majority of our players will be out of contract by the end of June and it is so difficult to predict when we will be playing again, so when we will be signing new squad members and getting the football side back up and running.
The only thing that is certain, is that there is so much uncertainty. Thankfully though, thus far the support we have had from fans and the local community has been magnificent and is helping the club get through this.
League reconstruction talks have begun, and we wait to see what comes out of it. Will Scottish football finally be able to put aside self-interest and come together for the greater good of the game? Time will tell. The premature end to the season has caused issues and various degrees of unfairness, including for our nearest neighbours at Falkirk FC. We hope that reconstruction talks can find a more amiable settlement that recognises the unfairness and does something to put this right.
But we also hope that the reconstruction group deals with some of the other issues facing the game. On a personal level, I hope they do all they can to hear the views of supporters and react accordingly.

Iain McMenemy has been chairman of Stenhousemuir FC since May 2018 and became a director at Ochilview in 2012.
He writes a weekly diary column for The Falkirk Herald and another for out sister title, The Scotsman.