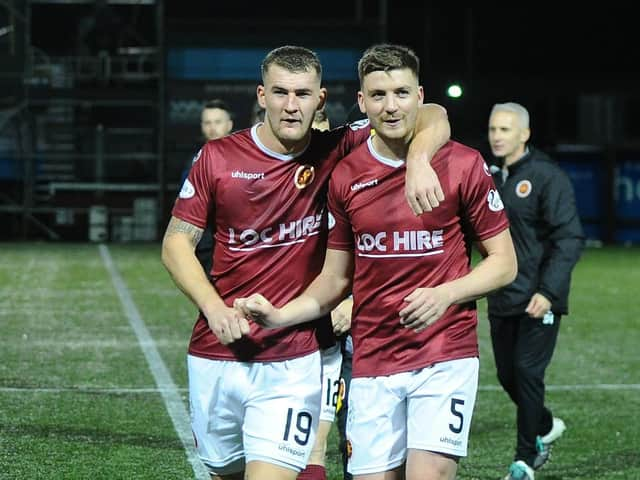 The club started off with a dozen volunteers wanting to help and now have over 100
In much the same way as this whole pandemic is causing us to learn and adapt, so too is the work we are doing in our community.
We started off with a dozen volunteers wanting to help, and now we have over 100.
We continue to shop for people, deliver prescriptions, and walk dogs, but have taken on a number of different roles too.
We're now offering to shop for our NHS workers who might not make it to shops due to shift patterns.
We then expanded into delivering free school meals to families isolating or unable to collect themselves. Just last week, we delivered over 800 school meals.
We then started delivering for a local foodbank, with up to 40 food parcels being delivered per day.
And then we collaborated with Larbert High, Keep Larbert & Stenhousemuir Beautiful and Carron Bathrooms, to collect food during the school holidays.
In one day alone we delivered over 130 food bags to Larbert High and St Mungos families.
We have also started a collection of toiletries and other essential items that we can bag up and deliver into the Forth Valley Hospital for patients.
We are currently working on two new planned expansions to the Help Initiative. The first is a befriending service we're calling 'Blether Together'.
This is where we'll link people up by telephone or video call to chat with others.
We'll be bringing this out over the next few days.
The other expansion is our meals service.
We plan to source the ingredients and cook, prepare and deliver at least two hot meals a week for those people that we are currently looking after through our Help Initiative.
We hope to get this up and running in the next week.
All of our staff and volunteers, together with the partnerships we have formed with other groups, businesses and individuals, have made this possible.
I can only say thank you to them all for their efforts.
It hasn't been easy for them as they are operating under the distancing and health care restrictions that are currently in place.
But I know it isn't thanks that they are after, they are helping because it is the right thing to do during this crisis.