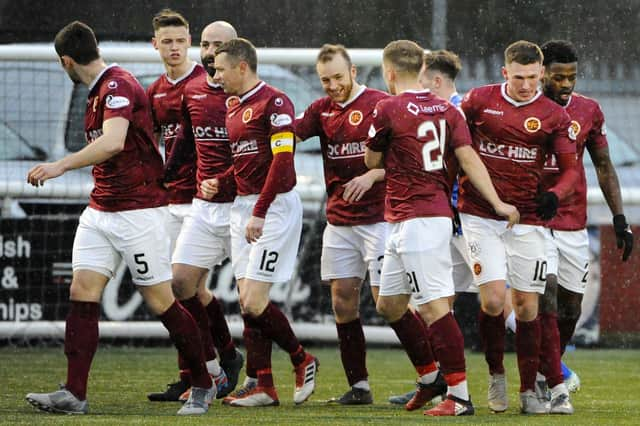 Stenhousemuir FC. Picture: Alan Murray
Without wishing to sound overly optimistic, it seems that there are encouraging signs that the virus spread is being controlled. This is to be welcomed. We should find out in a week or so if the nation is able to move to Phase 2 of the Scottish Government's plan to ease us out of lockdown.
Phase 2 includes the return of professional sport. However, this can only happen with the consent of Government and the football authorities. As it stands, football clubs below the Premiership level have yet to receive that permission.
At Stenhousemuir, we are continuing to take a cautious approach. We are speaking to players about next season, but this involves serious conversations about contracts. Inevitably, we must try and balance the needs of the player with the risks to the club in a season that will undoubtedly continue to be affected by the virus. Contract negotiations have intensified this week, and that in itself is an encouraging sign of a return to some normality.
Robert Wilson. Picture: Michael Gillen.
It is difficult to commit to new contracts when we don't yet know when we will be able to restart the season and if we will make it to the end in the event of a second wave of the virus. However, most clubs are in the same position. Next season will be interesting, and I'd expect it to be a little different.
It is quite likely that there may be a period where we play behind closed doors. This would be disappointing. It's the supporters that make football what it is. This is particularly true at clubs like Stenhousemuir where the club is so close to the support. However, we will do all we can to get fans back, in a way that is safe, at a time that is appropriate.
If we do face the prospect of playing behind closed doors, then we will find a streaming option. However it happens, the fans will be part of it.
We are hoping for further clarity over the next couple of weeks, and we plan to make an announcement on current player contracts too. Despite the coronavirus issues, we will be building a competitive squad and I'm sure, like me, supporters will be looking forward to the day we are back at Ochilview watching the team.