Camelon reveal charity partnership with Maggie's after work of superfan Cammy
Camelon Juniors have marked superfan Cameron Shanks' 60th birthday – and the club's 25th Scottish Cup anniversary with a charity link-up.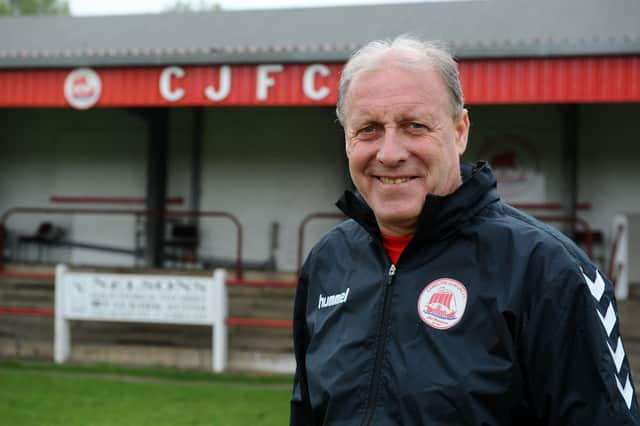 Cameron Shanks' work with Maggie's will be boosted by Camelon joining him in supporting the charity. Picture: Michael Gillen.
Next season, the club's 100th in existence, the Mariners' shirts will be adorned with Maggie's logo on the back.
A percentage of sales from the replica shirts – specially made to mark the 100th and 25th anniversaries – will go to the charity's Forth Valley centre, in Larbert, as will proceeds from other fundraising ventures throughout the season.
Tony Smith, CJFC secretary, commented: "I don't think there is anyone at the club who hasn't been inspired by Cammy with the journey he's been on and the fantastic fund-raising he's done for the Maggie's Centre. It's really opened our eyes to the work that Maggie's do and the difference it makes.
Camelon club secretary Tony Smith. Picture: Michael Gillen.
"As a club we want to help raise further awareness of Maggie's and do what we can to help raise valuable funds for them."Superfan Cameron Shanks, who fulfilled one of his bucket list entries of managing the Mariners two seasons ago, has been receiving support at the centre adjacent to Forth Valley Royal. He turned 60 on Tuesday.
Forth Valley Centre Fundraising Manager Cristina Puoso said: "We are delighted and proud that Camelon Juniors have chosen Maggie's Forth Valley as their charity partner. We wish the team all the best for the next season.
"This partnership will help us raise the money needed to provide our free programme of support to anyone affected by cancer especially through this difficult time.
"We have moved our support online to adapt to the current situation, but our centres are now open as people need us more than ever.
Cameron Shanks has been fundraising for maggie's
"Partnerships like this help us raise the funds we need but also raise awareness that we are here with you when you need us."
Camelon hope to unveil the strips, dedicated to the club centenary and silver anniversary of the Scottish Cup win, later this month.
The Falkirk Herald coverage of Camelon Juniors beating Whitburn Juniors 2-1 in the Final of the Scottish Junior Cup, May 21 1995.