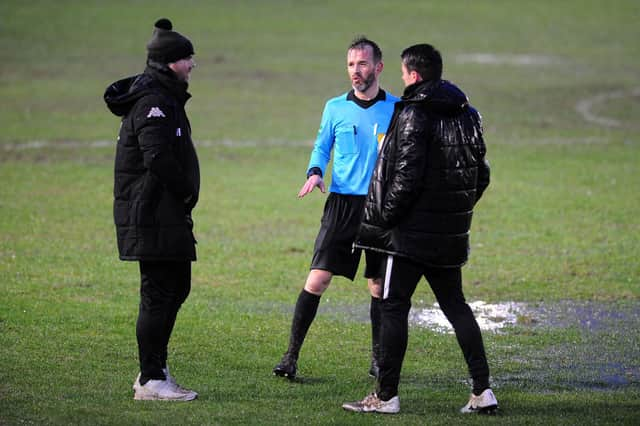 Referee George Calder calling off Camelon Juniors' Scottish Cup game against Brora Rangers on Saturday. Photo: Michael Gillen
Their guests, Brora Rangers, were always likely to prove tough opposition, being reigning Highland Football League champions, but even they were upstaged by Storm Bella at a rain-lashed Carmuirs Park.
A team of volunteers had worked hard to get the pitch ready for Boxing Day's game and it passed an inspection that morning, but their efforts proved to be in vain as the weather got worse and worse as the game went on, forcing referee George Calder to call it off at half-time.
By the time the Sutherland side arrived in Camelon after a near-210-mile journey south, unrelenting rain was already rendering the prospect of the two sides making it through 90 minutes of football doubtful, but Calder ruled the pitch to be playable at kick-off on the understanding that the match would be abandoned if the weather failed to buck up before the final whistle, and it didn't.
Both teams started at pace but neither was able to find the back of the net during the opening 45 minutes and that was all the opportunity they got as the ref once again summoned Camelon manager Gordon Herd and the visitors' boss, Steven Mackay, to discuss how best to proceed and adecision was made to abandon the match and replay it this Wednesday, December 30.​​​​​​​​​​​​​​​​​​​​​​​​​​​​​​​​​​​​​​​​​​​​​​​​​
Tonight's draw revealed that the winner of that game will host Heart of Midlothian in the competition's second round on Saturday, January 9.
The Edinburgh side made it to the final of last season's cup, held belatedly on Sunday, December 20, due to the ongoing coronavirus pandemic, only losing out to Celtic on penalties at Glasgow's Hampden Park after the game ended 3-3.
Hearts have won the cup eight times, in 1891, 1896, 1901, 1906, 1956, 1998, 2006 and 2012