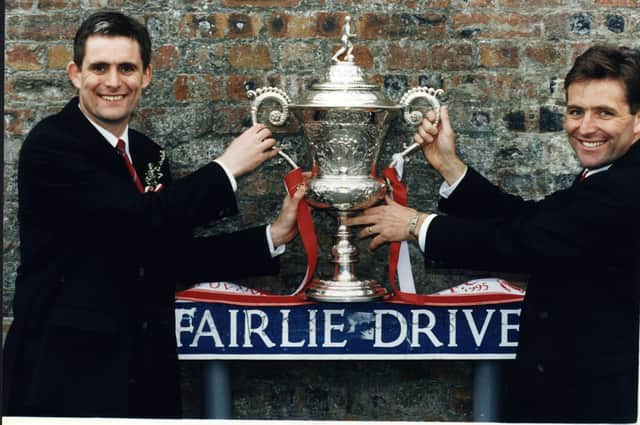 Pictures: Falkirk Herald archive
A quarter of a century ago this afternoon, he, and his fellow boss, brother George, stepped up to lift the OVD Scottish Junior Cup for Camelon Juniors.
For George it was a fitting end to his career as a player, and particularly special, lifting the cup with his brother and against the team he'd spent his Junior football career with.
"It was ironic to meet Whitburn who I played 500 games for – it was surreal. But once you get there and start playing you want to win.
Pictures: Falkirk Herald archive
"By that stage in my career, having played 18-odd seasons, the only thing I hadn't won was the Scottish Cup. I won in total eight league titles with three different clubs but there's nothing to touch the Scottish Cup - especially for a small junior team at the time.
"I had my brother alongside me for the trophy and I had my son Kenny with me as mascot when we ran out.
"I was thinking it'd never happen for me as a player, then to lift it was just fabulous, it made it so special when it did.
"But this isn't about me," George insisted when reminiscing this week. "It's about the people behind the scenes at Camelo., the committee.
Pictures: Falkirk Herald archive
"We made them the best junior team in Scotland at that time."
"It was a fantastic period with fanastic people giving them the joy their efforts and work behind the scenes deserved," echoed Brian.
This was a Camelon team with the community at its heart.
Still a closely bonded group to this day, the coronavirus has put paid to plans to celebrate this milestone. But they still keep in touch regularly and meet up.
Pictures: Falkirk Herald archive
They sang the Mariners song together on the bus to every away match in the mid-1990s heyday.
Striker and semi-final hero Davy Flynn kicked off the chorus "from the Three Bridges to the Forth and Clyde canal" on away trips that took them to Motherwell for the showdown with Whitburn after seeing off Kilwinning Rangers and Lochee United in the rounds prior.
Familiar foes for the Fairley brothers but still friends, even now.
Pictures: Falkirk Herald archive
"George and I had experience of Whitburn and we have great memories there and I went back and had success there.
"It was great to play them in the final and if it wasn't going to be Camelon next best for us to see winning the cup was them – so it was good it was against them.
"In the last game of the season we faced them in a league clincher on the final day of the season. We were such a high after the final that it really put the lid on a tremendous season for us."
The best team in Scotland, as George said.
From Alan Banner in goals through to Flynn up front, Camelon's squad was built, and led, from the central belt. All but one of the squad of 16 stripped that day came from Stirlingshire, led by the Fairley brothers from Stenhousemuir who'd begun their football careers locally at Gairdoch before moving to Whitburn. George went to Camelon, eventually, and later Linlithgow while Brian spent time in the seniors, and then at Bo'ness before later coaching at Stenhousemuir, Dumbarton and Forfar.
"We didn't set out with the intention to sign local players," admitted Brian. "We were just looking for the best on the pitch we could, we had a spirit there and bond and most of the guys still have that, we're in touch and living in the area.
Pictures: Falkirk Herald archive
"George and I took over in 91/92. We had a bit of time bedding in and the season before the Cup win we won three trophies and people then realised we had a squad together to compete."
atthe heart of that, in the defence, was George. Co-manager off the park, captain and leader on it.
"I spent 15years at Whitburn and four as player-manager.The opportunity came at Camelon, I fancied it so long as I could take my brother - we are both Stenhousemuir boys. I knew his qualities so I asked him to do the coaching and from then on we became a partnership.
"I'd play and organise on the park while he did the same off it. It worked fantastically well and I'm not sure we had a cross word while working together.
"When you're building teams you get a feeling. Brian and I felt it at Whitburn that we could get a team capable of the Junior Cup because that's the holy grail.
"We went to Camelon and gave ourselves twoyears to build a team for a right good go at it and got that feeling again. You could tell it was building and getting better.
"We'd won the league the year before. So we'd had a phenomenal time with two league titles, two back-to-back Scottish Cup finals and a few local cups as well, we had great players.
"It was great to share the cup with him and the family – but not just my family the Camelon football family. It was a community.
"To be local, I was only a few miles away in Larbert and I could feel it. The village was excited. Falkirk were having a great spell too. The town was buzzing."
Brian banned all talk of post-match parties. but one came to pass, several infact, when Grahame Wood and then Christy McKenzie fired their names into Camelon folklore.
"I heard Whitburn had a marquee ready. I didn't want any of that, just focus on the game. We had plenty of spontaneous stuff when we got back to Camelon.
"It was a special day for a lot of people and the community. There were a lot of long-serving committee members and it was fantastic to see the joy it brought to them, some sadly no longer with us.
"Just to watch their faces knowing we'd achieved it, brings back joy.
"We'd taken the 1952 Camelon finalists along too. It was great to share that day with them."
After that and the night in the social club the team had to regroup for another crack at silverware and at Whitburn, in a league decider. Camelon prevailed again. The best team in Scotland, George said.
"The celebrations were great," he remembered.
"The fans were all about the park, you didn't want it to end. Then we had another one at Mariners Day with an open top bus. That was a glorious day in Camelon that day with the families and everyone within the village.
"We had great support all the way and great rapport with the fans. It was a magical place round the village. We lifted their spirits and gave everyone a focus. It was brilliant for the hard work behind the scenes, for people like Jock Wardrope and Ian White."
The picture of Mr Wardrope carrying the trophy back through the gates and into the clubhouse quite possibly will never be repeated.
The Mariners are an East of Scotland club now, part of the senior football pyramid. It's the senior Scottish Cup they'll be competing in next after they hit the century this summer.
"That period was a big turning point - we won the league and a couple of cups and then people stood up and took notice. We were a threat for several years but the hard thing is to maintain it over ten or 15 years but that spell was phenomenal.
"It's still a big club now and since then there's been two league titles after us, that's been built on and they are now regarded as a decent club to be at.
"There's a lot going on at the moment and you just hope that clubs can keep going regardless of format – I still wish them success whenever they get back playing," said George, a juniors man through and through.
Brian, who had a crack at the senior game with Hibs and Cowdenbeath and in management added: "Junior football puts you in contact with some fantastic guys, both those you work with and who you come up against at other clubs. It's a great level of football and it's a shame there's so few opportunities to step up from junior to senior now - that's almost where you did an apprenticeship.
"Never say never about resurrecting the Junior set-up but as it stands now, this 1994-95 team will be the last Scottish Junior Cup in Camelon. I was in the last Bo'ness side to do it too. We are very fortunate.
"Unless big changes happen, these guys will be in the history books - its some legacy... and some script coming in the 75th anniversary.
"We will celebrate it once this coronavirus is over because it's important and something that might never happen again."