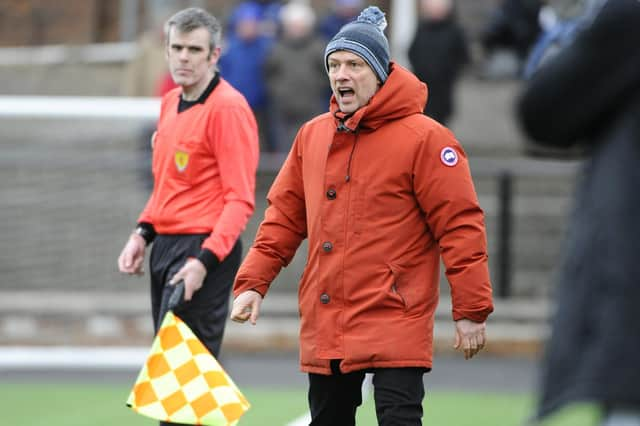 Bo'ness United gaffer Max Christie (Pic by Alan Murray)
Snowdon, who joined Bo'ness from Stranraer way back in July 2007, has been a club stalwart for many years and was granted a Newtown Park testimonial in 2017.
Boss Christie said: "Will is up there with the Bo'ness great players. He's in the same breath as Lex Shields (who scored twice as Bo'ness won the 1984 Scottish Junior Cup with a 2-0 final win over Baillieston at Ibrox).
"Simce I came to the club (in January 2019) Will has given me everything. He had my back and played some great games for us.
Club legend Will Snowdon in action for Bo'ness United
"He was pivotal along with Ross Campbell – who has also retired – in getting us into the Lowland League.
"Those two played a massive part in that. They will be missed and I was just delighted to manage them at the tail end of their careers.
"I always thought they were really good competitors and good footballers."
Meanwhile, Christie's assistant manager Ian Black has left his role at Bo'ness to spend more time with his family.
"Blacky's been there a while and he's got young kids," Christie said. "It's a massive commitment and he just wanted to spend a wee bit more time with them.
"He's been very successful everywhere he's gone in football.
"He was assistant manager to Alan Miller at Bonnyrigg, won the Superleague there, he won the first division with Newtongrange and he's won the East of Scotland League with us.
"He had been in football a long time, longer than me.
"We played for Salvesen Boys Club in the Scottish Cup final at under-12s. So I've known him since we were young boys.
"He's a top man, he's brilliant. He has been my right hand man for a wee while now and he's totally got your back, he knows the game and the boys love him."
Black has been replaced as Bo'ness assistant by former Camelon coach John Miller.
Christie said: "I'm looking forward to working with John. I had John at Broxburn, he was my captain there.
"He will be very good. He has great knowledge and we're looking forward to it."
The 2021-22 Lowland League season is due to start on Saturday, July 17.