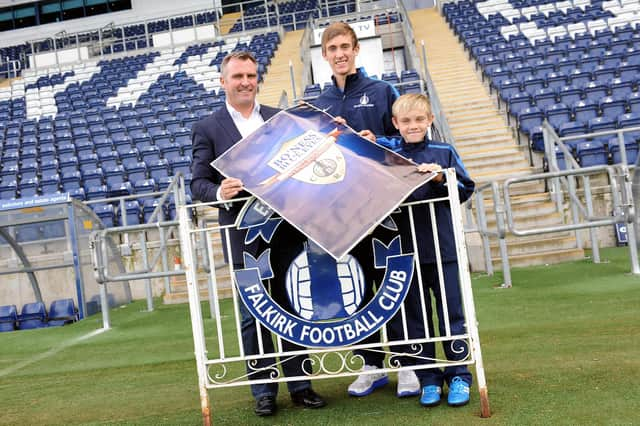 Bo'ness United Junior FC chairman Alex Brown (Pic by Michael Gillen)
Alex Brown told the Journal and Gazette that – faced with extinction due to the disbanding of their East Region Scottish Junior Football Association Premiership South league this summer – his recently established outfit simply had to switch to survive and so applied despite strong opposition from the town's 'big team'.
Alex, 58, said: "Some people see it as competition. I see the opposite. The swell of resentment is more or less from the seniors if I'm honest and I'm more of a collaborative person.
"I don't see us as a threat to them down the line and the reason for this is that their (BU seniors) link to the community is almost non existent so what's the threat? We will continually move players on, it might be to their team or other teams.
"It costs them a lot of money to run their team. They will sign players and pay big money like Auchinleck Talbot and all these guys. That's not our model so how can I compete?
"I think Bo'ness United seniors want to get into the second division. I can't see us ever getting there.
"Maybe we will end up in their league one day. That would mean we would have to have a couple of outstanding seasons and keep all our talent which is not a plan.
"We will always have a backbone of young players and we will always look at developing these players for further success.
"One of our lads at the moment is getting heavily hunted by Championship clubs."
Local businessman Alex, who played junior football for 18 years including two spells at Bo'ness United during which he was part of the squad which won the 1984 Scottish Junior Cup, helps run the Blue Eyes Sports Foundation, promoting further access to sport for children and young people.
Willie Irvine - an ex-player who ran one of Norway's top football academies for four years and later worked with Falkirk Academy alongside Alex Smith - is BU Juniors' manager. Ex-Falkirk Academy stalwarts Ian Campbell and Tom Beatie also help.
Alex added: "During the past two seasons, our committee, management and players have worked tremendously hard to raise standards both on and off the pitch.
"Off the pitch, we have persisted tirelessly to attract new sponsors and future committee members.
"Whilst, at the same time, we have been collaborating closely with the NPA, to create a new hospitality suite and investing in a full refurbishment of the home changing room.
"On the pitch, we have established high standards for fitness, timekeeping, training methods, video analysis, and dress code.
"I am a great believer in strong alignment from the top to bottom of any team in order to create a cohesive culture, not only within our club but in Newtown Park in general.
"Having initially spoken to the representatives of Bo'Ness United seniors, it was apparent that there was little appetite for a collaborative pathway.
"However, there was an overwhelming amount of support from the Community Club, NPA and the greater Bo'Ness community of fans.
"Quite simply nothing would please me more than having our players' grandparents and parents in the crowd at Newtown Park cheering on their family."
Bo'ness United Juniors expect to hear if their application to go senior is accepted by late April.