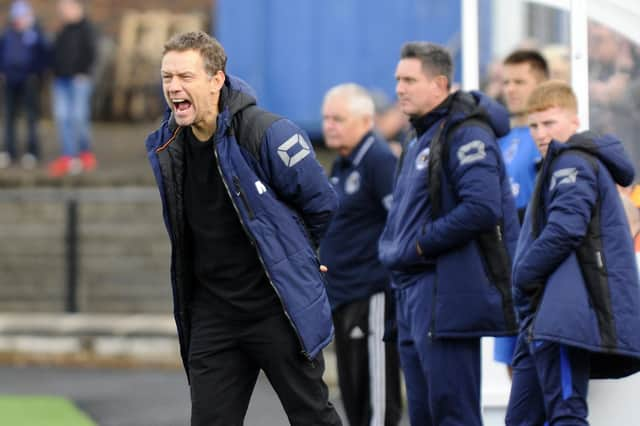 Pic by Alan Murray; 19/10/2019; Bo'ness Utd FC v Sauchie Jnrs FC; Bo'ness; Newtown Park; Falkirk District; Scotland;
With the Lowland League season officially over, all eyes now turn to the 2021/22 campaign and Christie is working to have a squad in place at Newton Park.
He said: "It's all very early trying to get around the players at the club and get them signed up and speaking to players we want to bring in.
"The bulk of the squad are signed on and we're just getting round them.
"It's still early and it's a big commitment to play at the level we're at. It's all been positive just now.
"You're always identifying and have a list of players you're interested in and it's just about who you can get and it's not easy at times."
There's no official news on when the BUs will return to training but Christie is hopeful they will be back by June.
Lowland League champions Kelty Hearts are currently getting set for their pyramid play-off with Brora Rangers. The decision to declare league positions for 2020/21 despite so few games being played was not met by a universally positive response, but Christie says the Fife side have earned the right to compete for promotion.
"It's good we declared a winner so that there is that competition to go up," he said.
"Kelty have invested massively and are to be applauded and it will be good to see them competing with Brora and the team at the bottom of League 2.
"To null-and-void it would have been a bit disillusioning for those clubs who have invested in players and infrastructure."
In the meanwhile, a number of players across the Lowland League have made short-term loan moves up the division to play in League 1 and League 2.
With teams in those leagues still competing, players from the fifth tier have been in high demand to bolster squads for the remainder of the campaign.
From United, Zander Miller is with Cowdenbeath and Stuart McFarlane has moved to Montrose. Christie says there are no other moves currently being discussed, but he remains open to them.
"There are no other moves in the pipeline at the moment," he said.
"If the phone rings, I'm open to it as long as long as it's right for us and the player."