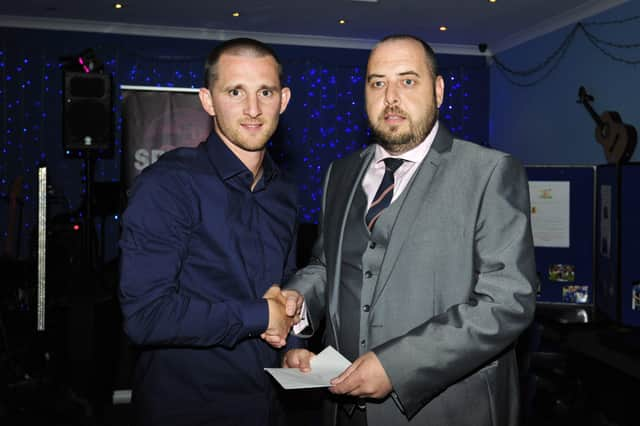 Will Snowden Dinner; 29/07/2017; Bo'ness; The Chemical Workers Social Club; Falkirk District; Scotland; Will Snowden and Bo'ness Utd Chairman Iain Muirhead Credit Image: Alan Murray Photography Pic by Alan Murray Tel: 01877 331266 Mob. 0751 111 23919
Iain's side – along with the rest of Scottish football and sporting associations throughout the world – have already been on lockdown for around a month as the world reels from the ongoing effects of Covid-19 which are predicted to see many teams go out of business due to lost gate receipts revenue.
"We are taking a massive hit here," said Newtown Park supremo Iain.
"But thankfully the players, manager and backroom team have unanimously agreed not to take a wage which helps us immensely to be perfectly honest.
"They have all taken steps to try and help the club out which is great.
"We can't thank them enough for that.
"This could potentially save the club, without a doubt.
"If you have nothing from gate money and are still paying players that is a recipe for financial suicide.
"Two weeks ago we paid them their last wage.
"They then decided not to take a wage to help the club which was amazing and really well received by everybody on the committee.
"If it wasn't that way then we would be really struggling and going down the furlough route.
"Cash flow would be a problem if we were going down that route as you can't apply for it yet."
In another boost for the BUs, Wednesday morning saw the club launch its fundraising Donate A Ticket campaign on its Facebook and Twitter pages.
Anyone wishing to help the club financially can click onto the link on either of these pages and donate suggested amounts for normal admission prices – £7 for adults and £4 for children/over-65s – a 'super amount' of £25 or as much as anyone can afford.
"The fund is just to keep the club going," Iain added.
"We still obviously have bills that we've got to pay that a lot of people tend to forget about, like to the HMRC and our pitch hire contract."
Bo'ness United – who top their league table by nine points with nine games to play – last played a competitive fixture way back on March 7 when they lost 3-1 at Penicuik Athletic in a second round League Cup tie.
East of Scotland League board members are due to meet by video link next Wednesday to discuss how their unfinished leagues should proceed amid the current sabbatical.
That meeting will follow this week's SPFL summit which saw board members recommend that clubs vote to terminate the 2019-20 Championship, League 1 and League 2 divisions now with current standings taken as final positions cementing promotion and relegation, with the Scottish Premiership postponement continuing meantime.
Iain added: "Hopefully our Donate A Ticket initiative will bring some revenue in and hopefully we can get the right decisions made by the powers that be so we can continue on our path for promotion."