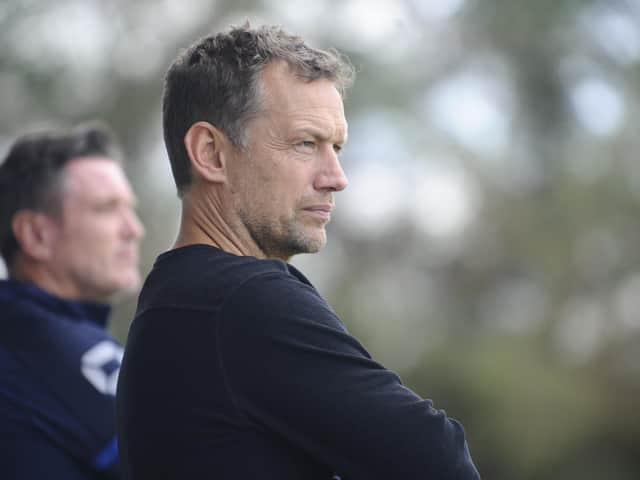 Bo'ness United manager Max Christie
The Newtown Park gaffer hit out at the latest indiscretion by Celtic defender Boli Bolingoli, who flouted coronavirus safety guidelines by failing to self isolate after returning from Spain, before playing in the Hoops' 1-1 draw against Kilmarnock on Sunday.
This behaviour was blasted by First Minister Nicola Sturgeon, who issued football stars with a "yellow card" warning, with the threat of a suspension of play across the board if the rules are flouted again. Aberdeen and Celtic's next two games have been postponed.
"Absolutely do I think further behaviour like that by the Celtic lad could delay the return of football in Scotland below the Premiership," Christie – whose club are in next season's Lowland League – told the Journal and Gazette. "I'm worried.
"His (Bolingoli's) behaviour was laughable. There's no excuse there.
"Going to Spain, coming back, not quarantining and then playing for Celtic, that's a complete lack of respect.
"You've got to be responsible and Nicola Sturgeon is the boss. I think everybody is behind her.
"I think we've all got to be training by the rules, playing by the rules, everything or she'll just say: 'No, stop'."
When asked if he would show Bolongoli the exit door if he was Celtic manager, Christie replied: "It depends how good he is.
"Alex Ferguson never showed Eric Cantona the door when he jumped into the crowd at Crystal Palace and kicked the boy in the head. If it was (Odsonne) Edouard doing it I think he would maybe be fined and kept at the club as he's worth X amount in millions.
"But if he's just a squad player I think his days are numbered."
Although he thinks Bolingoli was in the wrong, Christie does have some sympathy with the eight Aberdeen players who also breached guidelines by going out drinking in the city centre ahead of a local lockdown being imposed; two of the players caught Covid-19.
Christie said: "The guys from Aberdeen who went for a meal have been a bit unlucky and made a mistake that young men make.
"So I can give them a wee bit of a pass, but not an entire pass."
The Lowland League – which Bo'ness won promotion to after winning last season's East of Scotland Premier Division – has a projected start date of October 10 or October 17.
And Christie revealed that BU pre-season training is scheduled to start very soon.
He added: "We've been told that August 24 is the date that is being banded about for us going back to full contact training.
"We're probably going to go back on the 25th, it just ties in with that.
"So we're not having to do group training and all the rest of it.
"Because it's a minefield and we just want to go back and do proper sessions."