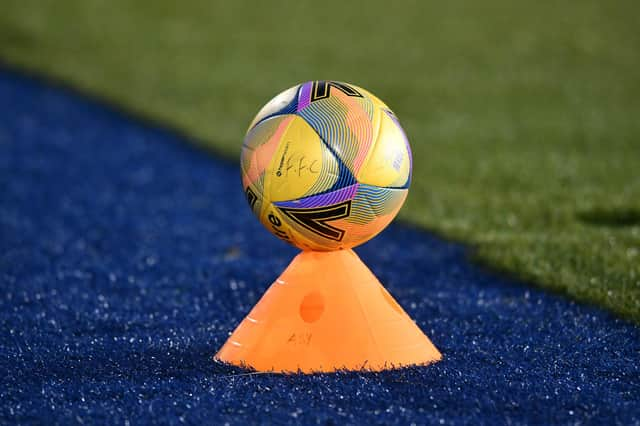 Footballs have to be sanitised during games and training as part of club procedures. Picture: Michael Gillen.
That means Falkirk – who have only been temperature checking ahead of each pre-season training session in line with current guidelines – will carry out swab testing of players and staff ahead of their match with Kilmarnock next month.
Teams outside the Premiership do not currently have to take tests, but do carry out temperature checks and health questionnaires ahead of sessions at the moment, as well as a series of additional sanitary protocols.
However the situation differs in the Challenge Cup where lower league teams may face youth squads and Colt teams from top tier clubs.
Celtic are the current holders. Picture Michael Gillen.
It has been decided that in such instances tests are still required – but at the expense of the Premiership club's colt side.
Clubs unable or unwilling to carry out the tests can either forfeit for a 3-0 defeat or withdraw from the competition – and defeats will also be handed out to teams struck down by the virus and unable to field a team.
The SPFL explained: "At present, all Premiership clubs are obliged to carry out RT-PCR (swab) testing of their squad in the
168 hours prior to kick-off for a Premiership match, with results made available to the SPFL by midday two days prior to the match. These arrangements will continue.
"There remains no requirement for routine swab testing in relation to Championship, League 1 or League 2 matches.
"In relation to the Betfred Cup, a number of lower division and non-SPFL (and therefore non-swab testing) clubs will play against Premiership (swab testing) clubs this season. To minimise the risk of transmission to Premiership players, any team drawn against a Premiership club in the Betfred Cup will be required to swab test their players in the 168-hour period prior to that fixture, with results provided to the League by midday two days prior to the tie.
"As with Premiership league fixtures, any players who test positive would be required to self-isolate and would not be able to take part.
"If a club is unable or unwilling to field a team in a Betfred Cup Round 1 group stage tie, or fails to provide sufficient negative test results, the club concerned will forfeit the match (on the basis of a 3-0 defeat)."
As the Challenge Cup is a lower league competition the governing body has decided against imposing a testing regime there, when there is none in place for league games.
However, any Premiership side with concerns of facing a non-swabbed squad can either withdraw from the competition or pay for the opposition to have a one-off test in order to complete the tie.
The SPFL added: "For any tie not involving a Colt team, there will be no requirement to swab test. For any tie involving a Colt team, the Premiership club may elect for their opponent to have to swab test their squad in the 168 hours before kick-off, but at the cost of the Premiership club.
"Premiership clubs may elect not to enter a Colt team in the Challenge Cup this season. As with the Betfred Cup, there is potential for a club not to (or not to be able to) play a tie. In these circumstances, the club concerned will forfeit the match, with their opponents automatically progressing to the next round."
The Betfred Cup is due to kick off on October 6. Falkirk host Kilmarnock while Stenhousemuir travel to Edinburgh City four days later on matchday two. The group stage will be completed in November.
Neil Doncaster, chief executive of the SPFL said: "The enormous efforts SPFL clubs are going to is a sign of the sport's determination to do everything humanly possible to mitigate the impact of Covid-19. The very future of many of our clubs depends on this comprehensive suite of steps to which clubs are rigorously adhering.
"The fact that Premiership clubs will pay for Covid-19 tests to be carried out by lower league opponents in the Challenge Cup is very positive. Everyone in our game knows we are all in this together and the fact that the game as a whole is taking a very collegiate and mature approach augurs very well for the future."