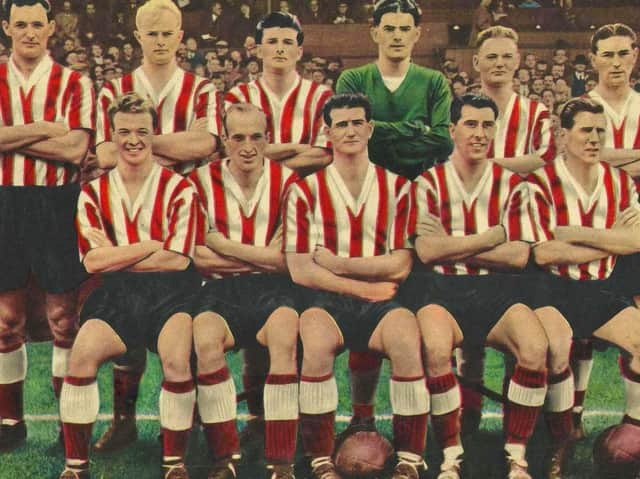 Can you spot the former Bairns player in this AFC Sunderland squad?
The Tynecastle Model was held up as a blueprint for running a successful Scottish club, and many were stunned by the announcements from Ann Budge last week.
Talks of voluntary redundancies and 50% wage cuts were a million miles away from the planned high-profile transfer of ownership to The Foundation of Hearts. Hearts would have become the largest majority fan-owned club in the country.
Has it all gone wrong? Ann Budge never intended fans to run the club, claiming it would be "a disaster and undermine everything we've done."
If Hearts were relegated the financial consequences would be disastrous. Supporters have pledged around £100,000 per month.
They are getting anxious. Facing a financial meltdown? Surely not.
WELCOME TO THE REAL WORLD
The gesture from Gary Neville to offer NHS staff free use of his hotel premises was a positive one and sets the bar for others who made a good living from the game.
Many clubs and individual players have reacted in a positive way to help their communities during the current crisis.
These include the issuing of emergency rations and food bank supplements. Mark Noble of West Ham was quite clear that the crisis has brought many players into the real world."
I and others are fortunate to live in a "bubble" where you take so many things for granted." Wilfred Zaha has offered 50 premises to NHS staff from his ZoProperties company.
Depending on your age, it might be through Blow Football, Subbuteo, Football Manager, Championship Manager or any other variations of the game.
Others are bingeing on football DVDs, podcasts, retro TV programmes or cataloguing their programme or football cards collections.
Fantasy Football leagues have been suspended. And this is only week one!
On-line polls are becoming increasingly popular.
Best- ever players, teams and games are sprouting up all over the place.
Watch out for more and more ingenious substitute football fixes.
A pruning of the current cup tournaments might not be a bad thing and if Football is suspended for the next three to six months, as it quite possibly is, we could finish off the league programme, however long that takes, scrap the Challenge and League Cups and start the next season in October 2020.
OR, WHAT ABOUT SOME NUCLEAR OPTIONS
Why not change the structure of the season to run from October to June?
Introduce Summer Football and have players at peak match fitness for the World Cup.
There has even been discussion about scrapping the entire 2020/21 campaign if the medical emergencies continue beyond the summer.
Wartime Football forced changes to structures and introduced regional leagues as well as replacement tournaments.
Maybe this current crisis will force a more radical change to the current set-up.