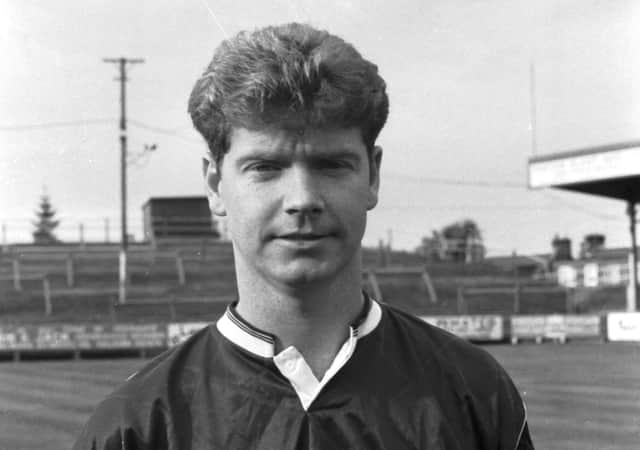 Who is the this mop-topped Bairn?
WIGTOWNSHIRE'S FINEST: Stranraer do well to compete given their resources, geographical isolation and lack of support. They have had several young promising managers who got the best out of their players. They are a bit of a yo-yo side and move between divisions trying to find their level. Spare a thought for their loyal band of supporters who face a 10 hour 530- mile round trip next Saturday to face Peterhead- weather permitting.
A COSTLY BUSINESS: Mark Stewart returned to face his first club and his career has taken a few twists and turns since Falkirk signed him back in 2006. He went out on loan to Stranraer back in 2007/08 and scored six goals from eight games. They must have good memories down there. Bradford City signed him from Falkirk and there was an almighty row over the sum involved. The dispute went all the way to UEFA in Switzerland before Falkirk won their case for compensation.
FROM SWANS TO WARRIORS: Talking of career paths brings us to Botti Biabi and Ryan Blair. Both former Bairns, they experienced the highs at Swansea City in their Premier League era, playing in their youth sides and now find themselves at Stenhousemuir. Both started the game against Brechin City in front of a crowd of 401 and it must have been a strange experience for the players who are still only 23 years old.
ANSWERS: Last week's mystery player was Alan Cousin who came to Brockville after a distinguished career with Dundee and Hibs.
EMERY CLOUD?: Unai Emery's sacking wasn't really a surprise. Trying to follow a long-serving and much-loved manager is always difficult. Remember Manchester United's attempts to find a worthy successor to Matt Busby? Or their search for another Fergie? Poor recruitment is all too common and that is why Falkirk just MUST get it right this time. Trying to replace Reggie Smith, Willie Cunningham, Jim Jefferies and latterly Yogi wasn't entirely successful. This club has massive potential and the support is there if our recruitment of manager and players is effective.
NO ACCOUNTING FOR TASTE: The AGM might be quite lively, given the revelation of the losses incurred. It is a far cry from the situation a few years ago, and the full impact of relegation to the third tier hasn't yet been factored in. Loss of TV revenue, lack of league placement bonus and possibly a significant amount of expense incurred through poor recruitment all make the final financial statement grim reading.