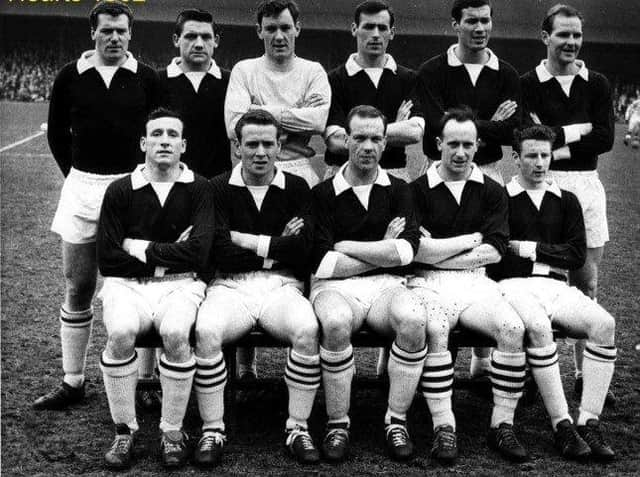 MYSTERY PICTURE: Which Bairn's brother is in this team shot?
TALES OF THE UNEXPECTED: If you tried to compose a football- farce in the best traditions of Brian Rix and the Whitehall Theatre cast, you could not have topped the complete nonsense and disgraceful events of the past week in Scottish football. What do you do when you are in hole? Stop digging! As we listened to events unravel last Saturday, you thought that was the lowest we could go, but subsequent developments topped (or should that be bottomed) that. Few emerged with any credit and I think the show will run and run, as they used to say on Broadway.
VESTED INTERESTS: Turkeys voting for Christmas seems eminently sensible compared to the decision to let the chairmen of Hearts and Hamilton lead a team looking at league reconstruction. Of course, they will be impartial and open to any permutations. The conclusion will be based on evidence, research and supported by statistical detail. They will then decide that any team whose name starts with the letter "H" must be in the topflight of Scottish football!
MYSTERY PICTURE: Which Bairn's brother is in the picture above?
UNEASY WEARS THE CROWN: Neil Doncaster is the latest in a long line of football administrators whose credibility with most punters is just this side of zero. His track record at Norwich City included a promotion and a relegation. He got his present SPFL post after strong competition from David Longmuir and was soon elected to the board of European Professional Football Leagues. It is interesting to note that he has a legal background given the wrangles that have emerged under his watch. His annual salary is rumoured to be in the region of £388,000 and he has been implementing the government policy of social distancing to great effect. It is not known if he ever played football. You can bet- either on Ladbrokes, William Hill or Betfred- he is looking over his shoulder as the criticism over his job increases in volume.
JAGGED: While Falkirk have been shafted- yet again- by those who run the game, I feel sorry for Partick Thistle. The Jags are facing relegation despite having games in hand and eight games to save their place. They have a good record of escaping relegation with a strong finish and they are behind in games played because they fulfilled their obligations to play in an SPFL managed tournament. The fact that they are not pursuing legal action could mean two things. Either it's not worth it financially, or they believe that these reconstruction talks will see them OK.
FOOTBALL ON FILM: In these lockdown days, many fans are voting for their favourite football-themed film. Escape to Victory, The Damned United and A Shot at Glory are sometimes mentioned. Mine is Home Alone- starring Kevin McCallister (sic) and produced by John Hughes.