Alex Totten made Lifetime Ambassador at Falkirk FC
Few people, if any, in the game of football have as close an affiliation to a club as Alex Totten does to Falkirk.
Thursday, 22nd October 2020, 9:27 am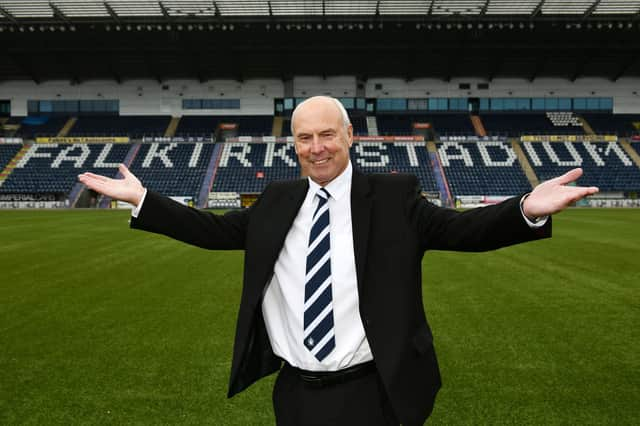 Alex Totten has been named as a Falkirk Football Club Lifetime Ambassador
And that affiliation is something that will continue as the former Bairns player and manager has been honoured with a lifetime ambassador role at the club.
The 74-year old has served the club in several capacities over the years, from being a young supporter to a player to manager twice over and a member of their commercial team for the best part of the past two decades.
His dedication to the club has earned him the nickname Mr Falkirk amongst fans, and now that dedication has once again been recognised by the club with a job for life.
He's come a long way from watching his heroes as a young boy from the Hope Street end of Brockville and intends to continue serving the club to the best of his ability for as long as he can.
"I was absolutely delighted to receive this honour," said Totten.
"Falkirk is my club. I've supported them, played for them and managed them, and I'm very proud to receive this role and I want to thank the chairman and directors."
Totten is a man who will not only be spiritually associated with the club forever but his ideas are built into the very walls of the Falkirk Stadium.
"When the new stadium was being built, I was the manager, so I went down to the Reebok Arena and got some ideas about the dressing room and playing facilities," he recalled. "I was part of that, giving the club a few ideas."
Despite that, though, Brockville will always remain close to his heart, mainly for his fond memories as a young supporter but also his achievements there as a player.
"Brockville was my home," he said. "I won promotion with Alex Ferguson and Andy Roxburgh there. Opposition hated going there because it was a tight park and we were tremendous opposition.
"When Falkirk won the cup in 1957, I was a wee boy going to the games, stood in the Hope Street end.
"I can still name that team off by heart but my hero was Alex Parker.
"When I went to Liverpool, he was at Everton, and I told him he was my hero and after that we became friends. I would go down and see him in Dumfries and at his pub in Carlisle and I held a cord at his funeral after his passing.
"He was a terrific player and I tried to emulate him when I played full-back."
The Bairns didn't make it to another cup final after 1957 for 40 years when they faced Kilmarnock in 1997, led out, of course, by Totten.
Totten, resplendent in his Falkirk tartan kilt, looks back on that day as the single proudest moment of his long association with the Bairns.
"The best moment without a doubt was leading Falkirk out in the cup final, their first final in 40 years," he said.
"It was tremendous taking them into the cup final and being the first manager ever to wear a kilt at a cup final."
After that, the honours began to come, firstly a lifetime recognition award from the supporters on the same night Kevin McAllister, said by Totten to be the best signing he made as a manager, was named Falkirk's player of the millennium.
Then came his testimonial against Rangers in 2007. By that point, he had been working in the commercial department at the club for around five years and he continues in that role today.
Despite having served his team in so many capacities, he still proudly holds on to his very first position at the club – as a loyal supporter.
Like all Falkirk fans, he wants to see the new management duo of Lee Miller, given his Falkirk debut by the club's new lifetime ambassador when he was manager, and David McCracken lead them back to the Championship and, in time, the Premiership.
"You want the best for the club, and hopefully the team can get back in to the Championship and then the Premiership because there's nothing better than the big teams coming here like Celtic, Rangers, Aberdeen, Hearts and Hibs," said Dennyloanhead-born Totten.
"In the commercial department, we contact people for hospitality but it's an easier job when you're a Premiership team because people phone you."Hopefully, big Lee and David can get things going and get us up first and foremost to the Championship and then the Premiership."