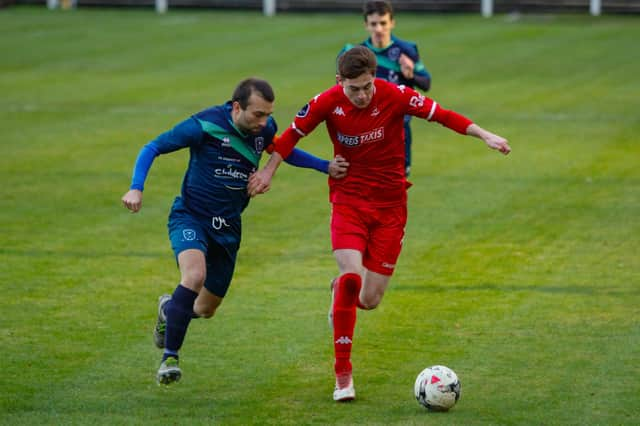 Alan Docherty (right) in action for Camelon against Tynecastle last season (Pic by Scott Louden)
Alan Docherty's treble that day was no surprise to Ferguson – who as Stenhousemuir boss had signed the then amateur and later loaned him to Camelon – and he has kept tabs on Docherty since.
On snapping him up for Stenhousemuir, Ferguson told the Journal and Gazette: "Alan had never really had an education in the game. He only started playing later in his teenage years if I remember rightly.
"But you could quite clearly see then that he had something. He just lacked game understanding, game knowledge and guile.
"But as a player you could tell he had something different and we signed him.
"We then loaned him out to gain experience and he went to Camelon.
"When I came up against him – I think it was my second game in charge of Linlithgow – he was the difference on the day.
"They beat us significantly and Alan was a standout. I'm absolutely delighted to get his signing over the line.
"He's rangy, tall, he'll be about six feet two, but he's not a target man type.
"He can come short, he can go in behind, he can take the ball in, take a player on, move defenders, he is willing to work the channels and work for his team.
"He's got trickery in his feet and he can score a goal so he comes with all the attributes you'd be looking for."
Docherty, who has signed a two-year pre-contract deal, joins his fellow Camelon team-mate Mark Stowe at Linlithgow as part of an exciting forward line also featuring Tommy Coyne, Kyle Wilson and Willis Hare.
"I think we've got some good options," Ferguson said. "We have different qualities in that final third in terms of type of player skill sets that they have.
"So we have some real opportunity for good combinations as well.
"I'm really pleased to have what we have in that forward line. It's the happiest I've been as a manager at this stage, still two weeks out from pre-season."
Meanwhile, Rose ace Luke Watt has agreed a one-year contract extension to stay.