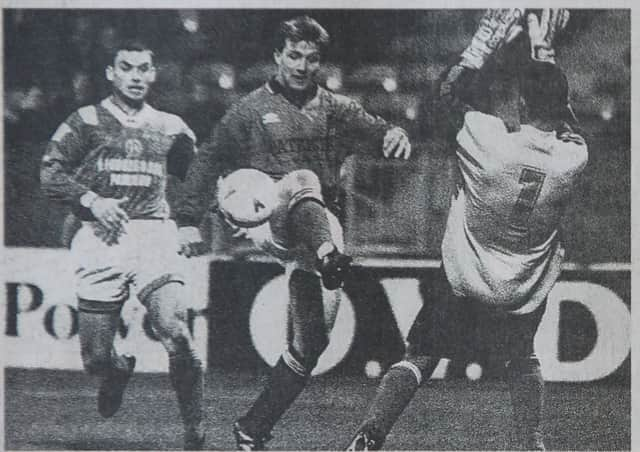 Allan McGonigal has a second half try against Lochee.
CAMELON THROUGH - THAT'S FINAL
Lochee United 1 Camelon 2
It was the Mariners' second Final.
THEY'VE done it! After a 43-year-old wait Camelon Juniors are again in the OVD Scottish Junior Cup Final for only the second time in their 75-year history thanks to a goal in either half from ace striker Davy Flynn.
And what a day for President John Wardrope whose 65th birthday co-incided with last night's (Wednesday) semi-final clash at Tannadice.
You can't buy presents like this and the great travelling Camelon support, who made up almost two thirds of the miserly 4481 crowd, will readily agree.
And none was happier for the President than Camelon boss Brian Fairley who praised him and his Committee to the full, adding "My brother George ad I have had a tremendous working relationship at Carmuirs Park with a Committee who have shown their trust in us. Never have they interfered in team selection and have always given us their full support. Needless to say we're over the moon at rewarding that loyalty with a place in the OVD Scottish Junior Cup final."
Double goalscorer Davy Flynn
But on a night when the most important thing was the result and a place in the final if the truth be told 5-2 win for Camelon would have been a fairer reflection on the play.
But for all that the Mariners' fans had to survive a nerve jangling last ten minutes when Lochee pulled one back with only their second effort on target in the game.
But before all this play got underway with Grahame Wood at centre back while Jim Ellis was pushed forward to replace the injured Sean Bonnar. And in the 13th minute it was Ellis who broke upfield on the right, shrugged aside the challenge of a defender, before sending over a dipping cross which Davy Flynn got on the end og to send beyond Lochee keeper Fitzpatrick for the all-important opening goal.
Camelon kept up the attack against their skillful but inexperienced opponents and might have extended their lead on a couple of more occasions.
The Falkirk Herald coverage of Camelon Juniors beating Lochlee Utd 2-1 in the Semi-Final of the Scottish Junior Cup, April 26 1995.
But there was drama to come in the 41st minute when Lochee were reduced to ten men following the dismissal of their most experienced player Jim Smith. The former Dundee player target Mariners' skipper George Fairley in the Camelon penalty box and, although the ref missed it, the linesman didn't and it was ta-ta to United's lynch-pin.
After the break, Lochee's hopes of a first ever Junior Cup final were fading fast and in the 50th minute they could count themselve lucky that keeper Fraser Fitzpatrick never became the second Lochee man to be dismissed.
That followed a superb flick-on from Allan McGonigal that left Christie McKenzie with just the keeper to beat. Fitzpatrick came charging out of his box but the referee elected to wave play on.
This was to prove only a short reprieve however for just four minutes later that man Davy Flynn extended Camelon's advantage with a superb goal.
The Camelon fans were celebrating.... and there was more to come in June 1995 too
Taking charge of a throw in he looked to be heading out of the Lochee penalty area when he suddenly wheeled to send a glorious low shot into the net at Fitzpatrick's right-hand post.
In the 63rd minute concussion saw Camelon's Grahame Wood stagger off the field to be replaced by Peter McArthur but even at that it looked as if Camelon would run out easy winners.
But that notion was hit richt on the head in the 80th minute when Lochee pulled one back. There seemed little danger from a deep cross from the right but all of a sudden Craig Brown (not the one in San Marino) came rushing in at the far post to send a glorious angled header beyond Alan Banner into the far corner of the net.
This goal fairly geed up the Lochee camp and just two minutes later the Mariners' goal had a remarkable escape.
With nothing to lose the Dundee side forward and Banner could only beat out Brown's header into the path of Raymond Smith who saw his chance of goal evaporate when captin courageous George Fairley popped up to clear on the line.
Seldom will the Mariners' skipper make a more important clearance but then again you never know as at 37 George is playing as well as ever, as is Davie Haston and in Allan McGonigal they have the key ingredients for a recipe that will could well serve the ultimate prize cosily installed in the Camelon Juniors Trophy cabinet.