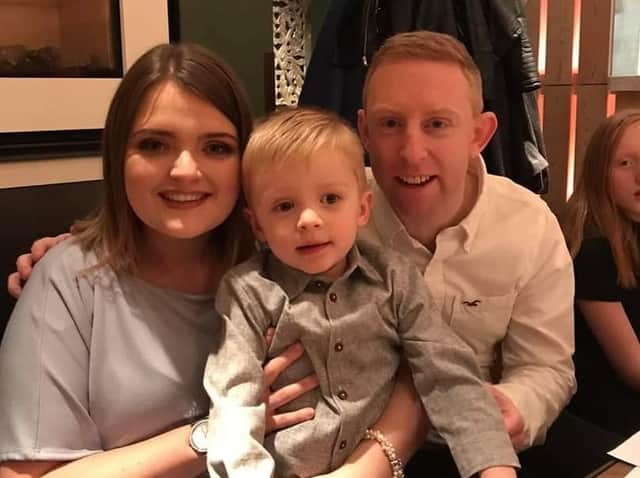 Laura Newman and her husband Chris with their three-year-old son Harry
Laura (30), has started the first few months of her three-year tenure with a lot on her plate as she leads the club during a campaign which was supposed to have started in late April and run through to August but remains postponed due to Covid-19, with Cricket Scotland expected to decide later in May if and when it will resume this year.
"This was certainly not the year I had planned for," Laura told the Journal and Gazette.
"We basically need about £250 a month without any cricket to cover electricity, water, phone line, all that type of thing, each month until the start of next season.
"We have enough to survive just now but it's how it will then affect next season because then we're going to have some bigger payments to make like for new match balls and fixture cards.
"It has been stressful but it's about managing that stress, working through it and looking for solutions to the problem. Everybody is in the same position.
"Coronavirus is affecting people on personal levels as well. So I suppose we've been very fortunate that the cricket club is kind of like a family.
"At the moment our best scenario would be that Cricket Scotland either allow us half of our season with one round of fixtures or if they at least allow us the opportunity to play some friendly games just to get some cricket in.
"It's because the boys want to get some cricket in but also financially on match days the club is open to anyone to go down the club, have a drink and come and watch the cricket.
"Before and after matches we make some revenue from our bar which kind of helps us to buffer the funds and we're not getting any of that.
"At least we have enough money in the bank to last us to the start of next season."
Laura, who works as a laser nurse (although she's currently laid off due to being pregnant) first started going to Linlithgow Cricket Club around 2013.
She went there socially with her now husband Chris and brother-in-law Andrew, who have both been playing stalwarts at Linlithgow CC, although Chris has since sacrificed it to concentrate on being a Category 2 football referee.
Laura first got involved working with the administrative side of the club two years ago.
She said: "The cricket club didn't have anyone who was doing fundraising or trying to actively help boost the funds.
"So I became Linlithgow Cricket Club's fundraising co-ordinator two years ago."
Laura – who has three-year-old son Harry with Chris – is thrilled to be expecting a baby girl who is due in August.
The lifelong Linlithgow resident said that since age 16 she has been on several committees in the town.
The ex-Gala Queen is also a former Linlithgow Players drama group chairman who is the current chair of Lochside Playgroup.
"To be honest, most people like my parents tell me that I should really quieten down and have a bit of a quieter life but I never really take it on board!" she added.
"The cricket club unfortunately had a flood last January which meant we spent about £8000 or more, with insurance as well, having to replace floorboards and water tanks and things.
"Luckily our funds were big enough to make sure we were able to make some changes. We got £1000 from Tesco Bags For Help for the clubhouse, which is an ideal place for events and people to hire out for free.
"The idea this year was that we were hoping to get the clubhouse a wee bit better so it was a bit more user friendly – for years the toilets were needing done – and I'd hoped that this year it was going to happen.
"But the coronavirus has completely scuppered cricket so far in 2020.
"We're waiting to hear from Cricket Scotland about when we may restart.
"We have to do what's safe.
"We have enough match balls that each player could have their own match ball to play with so that they're not all touching the same ball.
"But the difficulty is that the changing rooms are shared and the showers are shared.
"You might have to shower at home and come changed ready for cricket. If it could be done safely it would be nice to have it.
"But equally if Cricket Scotland and the Scottish Government say it's not to happen then we're just going to take it on the chin."