Burgoynes as quick as ever in Racewall return
On a beautiful warm and sunny Saturday afternoon, the Cowdenbeath Racewall rang with the sound of stock cars as the first of the closed-door practice sessions took place. There were some really fast times on a dry track and a few new cars on show.
Wednesday, 12th August 2020, 2:58 pm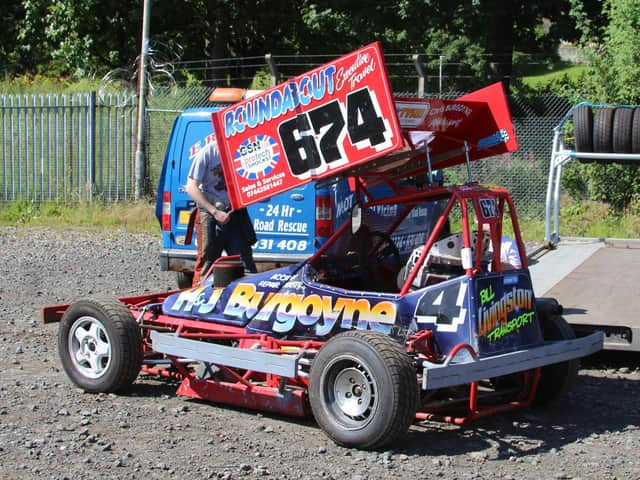 Among those were the Burgoynes, Chris (Falkirk) and Steven (Airth), using the cars they had raced last year and were as quick as ever.
The Formula IIs of Craig Wallace and Pete Dobson travelled up from the north of England, while Ben Sher had switched from the Prostock Basics to a Formula II.
Raffaele Donofrio was back after only having a couple of runs last season and, while he struggled with fuel problems initially, he ran well once the fault was cured.
Wallace and Gregor Turner had switched from Pinto to Zetec engines and must have been pleased with their cars' first outing with the new power units.
Kyle Irvine struggled at the start to the session with a misfire in his Saloon but, once he overcame the problem, the car ran as if on rails.
Barry Glen clocked the fastest lap while Tam Rutherford Jr (Dunipace) ran well, as did Ross Forrest and Eck Cunningham.
Andy Ainslie (Stirling), who only started racing towards the end of last season, managed to put a lot of laps under his belt.
Cameron Doak was the quickest of the Stock Rods but only marginally quicker than the Scottish Champion, Michael Bethune.
Liam McGill brought out his new car but struggled initially with a fuel problem. However, once that was rectified, he was one of the quickest on the track.
This Saturday, the Micro F2 drivers get a practice session between 10am and noon, while from 1pm-4.30pm the senior formula will be practising. All drivers must book in prior to Saturday and check with the Racewall website.