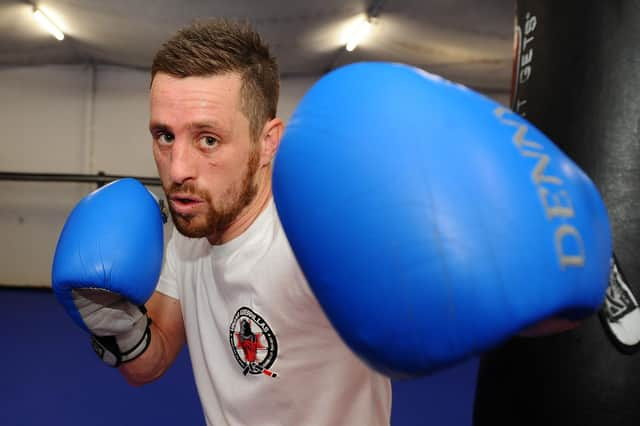 Kevin Traynor is now 3-0 as a professional after winning his latest fight last month.
The 32-year old, known as "The Denny Warrior" turned pro last year and won his first two fights by first round knockouts.
His third fight though, against Tellez, wen't the distance with Traynor describing it as "a step up" in opponent but a "comfortable" victory.
He said: "It was a step up in opponent, he was really experienced and it was good to get some rounds in with him.
"I never lost a round, I think the judges scored one as a draw but I felt comfortable throughout the fight."
The task was made even more difficult for Traynor who only had three days to prepare for Tellez after two changes of opponent.
"He was my third scheduled opponent," said Traynor.
"Originally I was meant to be fighting a boxer from Greece who pulled out, then he started giving me a bit of lip on social media so I'm hoping to get a fight with him down the line.
"After that was meant to be another Nicaraguan called Pablo Narvaez who has fought a lot at a high level and even fought on the undercard of Fury v Wilder.
"Three days before the fight the opponent changed again to Johnson.
"He's probably a wee bit more of a dangerous fighter but I was the clear winner."
Like so many other pro athletes Traynor feeds off the energy he gets from a live crowd and, although he is seeing some positives from competing in empty arenas, is eager to be back in front of a live audience.
"Even on my ring walk I feed off the crowd and get the buzz, it's different but it probably makes for a more controlled performance. To date it's the best I've boxed."
"I like to get involved and dig deep but in this fight I boxed off the back foot. It was probably my calmest performance and I could hear everything my corner team was saying but I am missing the crowd and my support although I knew they were all watching me live on TV - I've got an outstanding following.
"I'd like to also thank my sponsors Blood Sweat and Tears, Star Joinery, Forth Valley Joiners, LR Auto Care and Stirling Cleaning Services."
For now the Super-Featherweight doesn't have a fourth pro fight lined up but says he is keeping on his toes in case he is called upon at short notice.
"I'm ticking over and training hard and wan't to be ready at any moment to go."