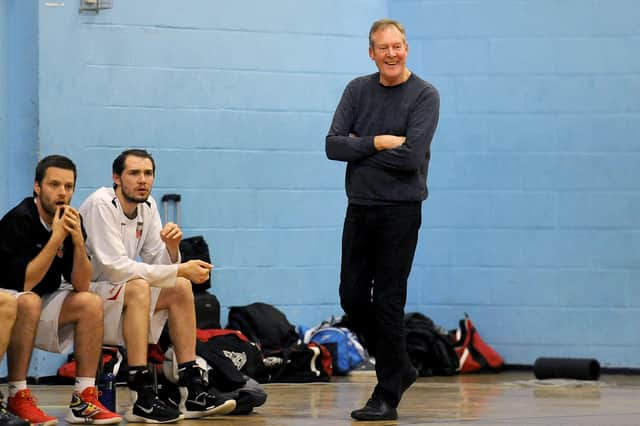 John Bunyan has been pleased with turn-out at training. Picture: Michael Gillen
Fury Senior Men, who took the Scottish Division 1 title, qualified to play in the pro British Basketball League Trophy, but that also is now in doubt as the BBL itself looks to be going on hold, after the latest Government announcement keeps indoor sports with more than half a dozen players off limits.
Fury meanwhile continue to train outdoors, but that situation is set to change after 11 weeks as their outdoor court has no lighting.
Fury head coach John Bunyan commented to Heraldsport on the future for the club: "Our 19-20 season ended in March with five of our six top teams having qualified for the play-off semi-finals in their age group.
"The men had a great opportunity to add another title with the senior women having played their best game of the season in the quarter-final.
"Both our junior men and women had reached their semi-final as had our cadette women. The potential for our younger teams from under-10 to under-14 to have success in national competitions in May and June were also eliminated.
"Since the opportunity to train outdoors has come in, we have seen literally 100% attendance from our teams at their sessions and a continued commitment to be ready to play competitively, whenever that may be.
"We now face the challenge of getting indoors to maintain and take forward our training and hopefully some competition.
"The whole basketball network, like all sport, brings so much to the community, not just for our 200 players, but our links in schools and with sports development classes, runs into hundreds of players."
Sony Centre Fury's former male and female players are also unsure of their 2020-21 season as this week the Government in the UK banned adult indoor sport for more than six. This is in effect has put paid to the pro British men's and women's basketball leagues at this time.
Jonny Bunyan and Fraser Malcolm were scheduled to return to action for the Glasgow Rocks in the BBL in early October with Jenna Beattie (pictured) and Eabha Kerr also likely to have resumed with Caledonia Pride in the 
WBBL.
In France - Ali Fraser - who recently signed for Avignon, is still scheduled to be in action as his team continues to play warm-up games ahead of their planned season tipping off.