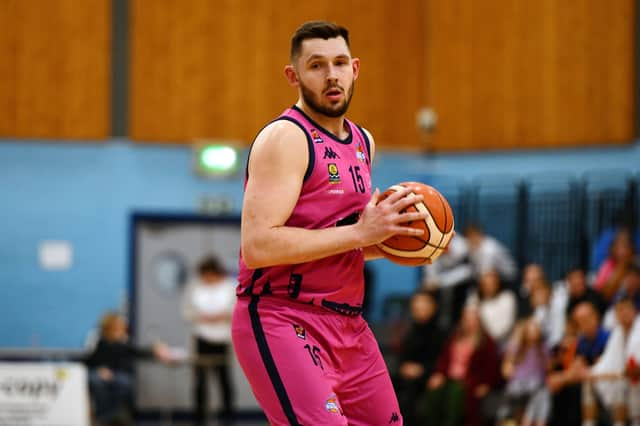 05-03-2020. Picture Michael Gillen. GRANGEMOUH. Grangemouth Sports Complex. Sony Centre Fury v Radisson Red Glasgow Rocks. Game finishing 58-106 win for the Rocks. Ali Fraser 15.
The 28-year-old will play in the NM1 Basketball league next season – and he'll have some 'home' comforts on the south of France helping him settle in.
He told The Falkirk Herald: "My coach at the Rocks last year Vincent Lavandier has moved to the club and he has taken myself and a couple of the other Rocks players too.
"The acclimatisation is a big part of moving abroad and it can be tough not knowing anyone – so hopefully this will help.
Sony Centre Falkirk Fury v Glasgow Rocks. Ali Fraser and Ben Chok 12. Picture: Michael Gillen.
"I had a great relationship with Vincent – he told me when I was playing well for him, and when I wasn't.
"It's a vote of confidence in me from him to ask me to join him and I'm looking forward to it. We were doing well with the Rocks and hopefully that continues.
"It's a shame to leave the Rocks – and Scotland – after a few years at home but I wish them well and have friends I've known for a long time still there so will be keeping in touch."
Fraser began his basketball career with Fury as a 10-year-old, and has played for Great Britain at both U20 and Senior, played on one of Fury's best ever under age groups taking six National titles at Cadet and Junior and in Fury Men's Senior team who won the Scottish Cup in 2010, before starting a four-year scholarship with Maine in the NCAA Division 1 in the US.
6'8" Ali has grown up at the Fury before moving to Maine and now onwards to France. Picture: Gary Hutchison
He has since played in Germany and for the past few seasons the Glasgow Rocks in the BBL alongside his 2018 Scotland Commonwealth Games teammates - Jonny Bunyan and Fraser Malcolm - also former Fury players.
Fraser led the pro British League in season 19-20 for two-point shots made and in field goals. Fraser also made the top 10 in average points – 16.3 and offensive rebounds 2.3 per game.
The Rocks were leading the BBL when the season ended in March with many saying the Scots club should have been given the title, which was later declared as a void season.
Fraser will be joined byAmerican Greg Pryor and centre Maxime Djo Ebala as well as his old coach, but his hometown and junior coach John Bunyan, at Fury, added: "This is a great move for Ali and an excellent opportunity to take his game forward in France – a tough competition.
"Ali has just come off the back of a strong season for the Rocks in the BBL at times scoring at will. He was strong in the post, continued to develop his mid range shot and that made him a very difficult player to guard.
"He showed he is physically strong, coping well against much taller opponents and I am looking forward to the next phase of his career.
"He will be a very difficult player to replace at the Rocks, but I know all in Scotland, the Rocks and of course at Fury will be wishing 
Ali well!"
Fraser will meet up with his new team-mates in the south of France next month.