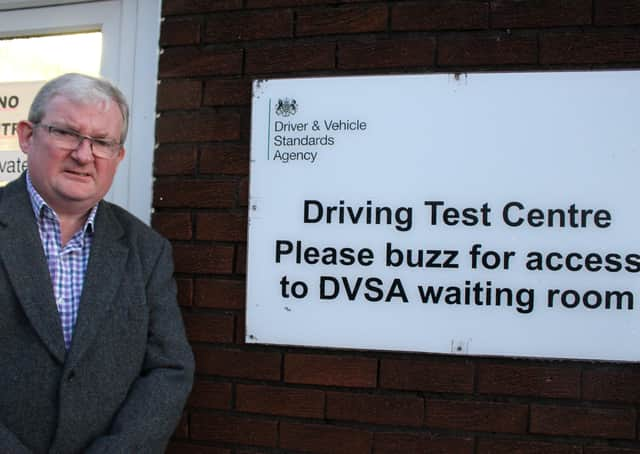 Falkirk East MSP Angus MacDonald fears the loss of a DVSA driving test facility to the area would be "devastating".
However much depends on whether negotiations said to be taking place are successful.
In January local politicians feared the Driver and Vehicle Standards Agency (DVSA) was set to quit its centre in Grangemouth's Earls Road, a move claimed set to have damaging knock-on effects on the local economy if no replacement were found,
Now DVSA chief executive Gareth Llewellyn has given a personal assurance that there's a firm desire to continue providing services for driving tests "in Grangemouth", and says negotiations are ongoing towards a potential site,
No details of the putative site are offered, as these negotiations are said to be commercially sensitive. however in the meantime the current DVSA base is to remain operational until May 22.
The DVSA chief's assurance follows a letter to him from Falkirk East MSP Angus MacDonald, backed by other local politicians, expressing concern that Falkirk district could lose its driving test centre (DTC), pushing learners and local driving instructors away from the area for lessons and tests .
Mr MacDonald says this outcome would be devastating for the area.
It is also claimed the loss of a DTC for the area would ultimately push up prices and affect local businesses.
Mr MacDonald's stance is supported by Falkirk district parliamentarians Martyn Day MP, John McNally MP and Michael Matheson MSP.
Commenting on the letter he received from Mr Llewellyn this week, Mr MacDonald said: "Many of my constituents affected by the changes to Grangemouth DTC have contacted me with their concerns over the closure, and potential loss, of our local testing centre.
"So it is pleasing to hear that the DVSA want to continue providing a test service in Grangemouth and that they are in active talks over a potential site.
"Clearly the loss of this service would be devastating for our local driving instructors, pushing lessons further outwith the district to Livingston, Stirling or Dunfermline.
"Not only is this bad for their business, it could impact on the experience of learner drivers, and would undoubtedly push up prices and emissions.
"I would encourage all parties to these negotiations to work together and bring a solution forward that will ensure driving tests can continue to be provided in Falkirk district and bring certainty for our learners and instructors reliant on this service."
Mr Llewellyn's letter reads -
Thank you for your letter of 17 February on behalf of yourself, Michael Matheson MSP, John McNally MP and Martyn Day MP, about driving test provision in Grangemouth.
I understand your concern and the concern of your fellow Parliamentarians.
We want to continue to provide a driving test service in Grangemouth and are in negotiations for a potential alternative site. This information is commercially sensitive and, as I am sure you will understand, we are unable to release details until negotiations are concluded.
I can assure you the matter is being treated seriously. I have noted your interest and will write to you again once further details are available.
We will also keep local instructors who subscribe to our driving instructor and motorcycle instructor news bulletin, informed of our progress
Testing will continue at the current test centre until 22 May.