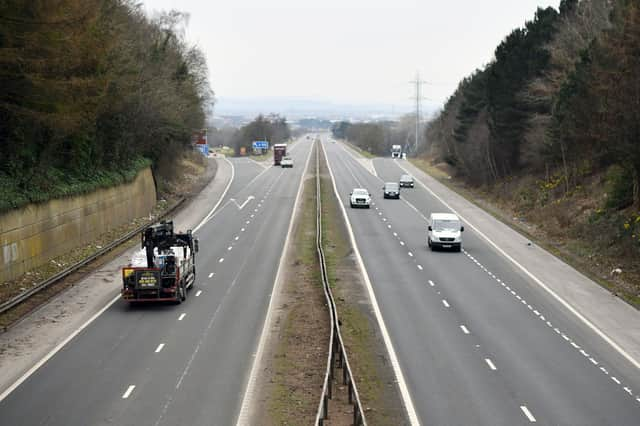 Picture Michael Gillen.
BEAR Scotland is planning essential road marking and maintenance works on sections of the motorway which will impact on a number of junctions.
Work includes reinstating white lines and stud, gully cleaning for drainage, road sweeping and litter picking.
It has been programmed to be undertaken over nine nights, from Monday November 23 to Friday December 4.
It will be necessary to close the carriageway to ensure the safety of workers,
Tommy Deans, BEAR Scotland's south east network manager, said: "It is important that we address the sections of M9 and create a better road condition in the longer term.
"Scheduling the cyclic maintenance activity at the same time as the markings means less disruption overall.
"We'll do all we can to complete the work as quickly and safely as possible and thank motorists as well as the local community for their patience while we carry out this project."
The schedule of works is:
J9 to 10 (North bound) November 23-24 - divert via Pirnhall Rbt, A91 - A905- A9 - A84 - M9 Jct 10
J5 to 3 (south bound) November 25-26 - Off Jct 5 SB - A905 - A904 - Back on at M9 Jct 3 SB
J2 to 1a (south bound) November 26-27- Off Jct 2 SB - A904 - Echline Rbt - M90 / M9 Spur - back on at M9 Jct 1a SB
J11 to J9 (souht bound) November 30 - closed at Keir Rbt - A9 - A907 - A91 - A9 - Back on M9 Jct 9 Pirnhall Rbt
J9 to J8 (north and south bound) December 1-2 NB Div: Continue M876 SB – M876 to M80 SB – M80 J7 SB Offslip – Haggs – M80 J7 NB Onslip – M80 NB and follow local signage; SB Div: Continue M80 SB – M80 J7 SB Offslip – Haggs – M80 J7 NB Onslip to M876 EB – M876 EWB and follow local signage.
J8 to J7 (south bound) December 1-2 As above, plus lane closures on M9 after M876 traffic merges onto M9
J1 to J1a December 3 - Newbridge Rbt - A8 - A902 - A90 - Echline Rbt - A904 Back on M9 Jct 2 NB
Thank you for reading this article on our free-to-read website. We're more reliant on your support than ever as the shift in consumer habits brought about by Coronavirus impacts our advertisers.
Please consider purchasing a subscription to our print newspaper to help fund our trusted, fact-checked journalism.