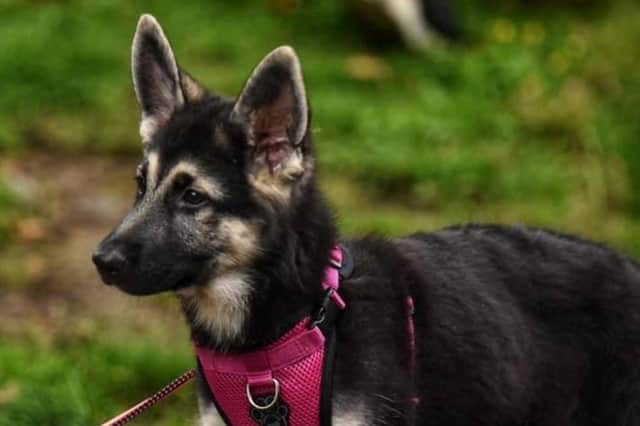 Moca was just 8 months old.
Moca slipped her lead on Friday night, prompting owner Stephen Short to run after her near the Inchyra roundabout.
However, by the time Stephen caught up with the German Shepherd a few minutes later, she was lying on the grass verge nearby, having been hit by a car.
But as no driver stopped at the scene of the accident, Moca's family are hoping the driver makes themselves known so they can have some closure about what happened.
Moca was a beloved family pet.
Stephen says that he doesn't blame the driver, as the dog must have run onto the road before the accident.
But he also thanked those who came to his aid as he sat cradling the family pet.
It happened at around 11.10pm, when Moca managed to break free and run off.
Stephen, who lives in Bowhouse, said: "She'd slipped her lead. She's just a puppy, it may be that something caught her eye but she just ran and I went after her.
"I got there just after it happened. I never saw any car there, so no one had stopped after hitting her.
"I found her on the grassy verge. I just cradled her. I was just devastated.
"Some people who were passing by stopped to see if I was ok.
I just wanted to sit with her in the hope that she took a breath."
But the puppy had sadly died, and some good Samaritans stopped to check on Stephen and Moca, something for which Stephen was extremely grateful.
He said: "My memory of it is pretty hazy.
"I just want to say thank you to the people who stopped to help at what was a really distressing time.
"Someone gave me a blanket. At the time I was sat there I couldn't remember my wife's phone number, and one woman even went all the way home to go and tell my wife what had happened.
"It was a really nice thing to do."
He added that he didn't blame the driver, but felt that they should have stopped after the accident.
"If you have an accident or hit an animal, just stop. Once the initial anger dies away, I don't think it's their fault, the dog escaped and got onto the road where it shouldn't be.
"I don't blame them for anything other than driving away.
"She's a family pet – two young boys have lost their best friend.
"I just wish the driver had stopped so we could have some kind of closure."
A Police Scotland spokesperson confirmed that they had been notified of the accident: "We were made aware of an incident where a dog was struck by a car at Inchyra Roundabout in Grangemouth around 11.10pm on Friday, 19 February.
"The vehicle did not stop at the scene and the dog has since succumbed to its injuries.
"Enquiries into the incident are ongoing."