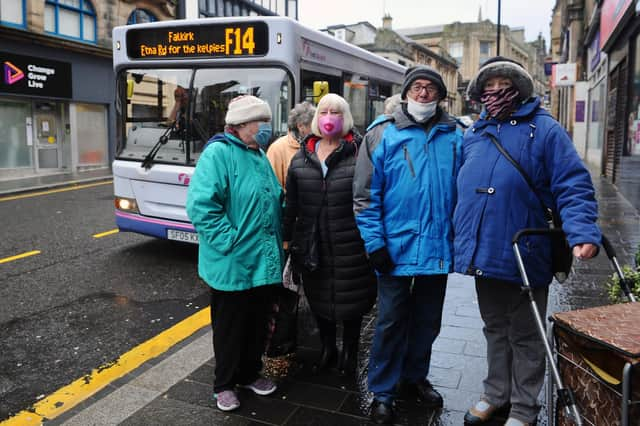 17-12-2020. Picture Michael Gillen. FALKIRK. Day 267 of UK wide coronavirus lockdown. Day 46 of Scotland 5 tier system. Falkirk is in Level 2. FALKIRK: Vicar Street, bus stop for F14 moved from Asda and old people finding it difficult to use. Bus company says it's because of congestion at Newmarket Street. Helen Flynn wearing a pink mask with other bus users. 
The F14, which runs from Falkirk to Etna Road and the Bog Road area, previously stopped outside Asda on Newmarket Street.
However, in October the bus company said that due to "safety fears" and social distancing measures, passengers would have to walk to Vicar Street to get their bus home.
Regular passenger Helen Flynn is furious at the change, which she says is affecting lots of people.
"There is one gentleman who is 90 and blind and I know two ladies who are now having to get a taxi home when they've got shopping because it's too far to walk.
"It's not a great distance if you have your health and mobility but for people who don't, they are struggling."
Helen says the change is having a big impact on people's lives.
She said: "These old people want to keep their independence - but they are really struggling.
"A lot of them are on their own and getting out to the shops is a social thing as well as doing their shopping."
Another passenger, Mrs McGreachin, says her husband has dementia and it has been difficult to explain the change to him.
She said: "I would say about 90 per cent of the people on this bus are aged from 65-85 and its just not fair to them."
As well as being a long walk for those who are elderly or with mobility problems, the pensioners also say the road can get very slippy on cold days.
They also say the Vicar Street bus stop can have three buses stopping to pick up passengers and the pavement can get so crowded that people are having to walk on the road to get past.
Helen said: "First they said it was because of congestion outside Asda - but I take it no-one has been to see the congestion on Vicar Street!"
"Then they said it was Covid - but if you take a walk to Vicar Street in the morning you can hardly separate two metres apart!"
Councillor David Alexander has also spoken out on behalf of his constituents and First Bus and Falkirk Council have agreed promised to look again at the situation.
He aid: "I was disappointed to hear that First Bus had re directed the F14 service from Asda to Vicar Street without any consultation with a service users.
"Had consultation taken place then I have no doubt that First Bus would not have disadvantaged elderly people form Middlefield with this switch.
"I am more hopeful that their statement to reconsider this change will enable it to be restored."
David Phillips, Operations Director for First Midland, said that changes to the F14 route had been made in conjunction with Falkirk Council and were due to a social distancing review.
He added: "The safety of our staff and passengers is always our number one priority and we will work in partnership with the local authority to ensure this issue is resolved swiftly."
A Falkirk Council spokesperson said: "We are working closely with First to reinstate Service 14 to the bus stop at Asda in the New Year."
Thank you for reading this article on our free-to-read website. We're more reliant on your support than ever as the shift in consumer habits brought about by Coronavirus impacts our advertisers.
Please consider purchasing a subscription to our print newspaper to help fund our trusted, fact-checked journalism.