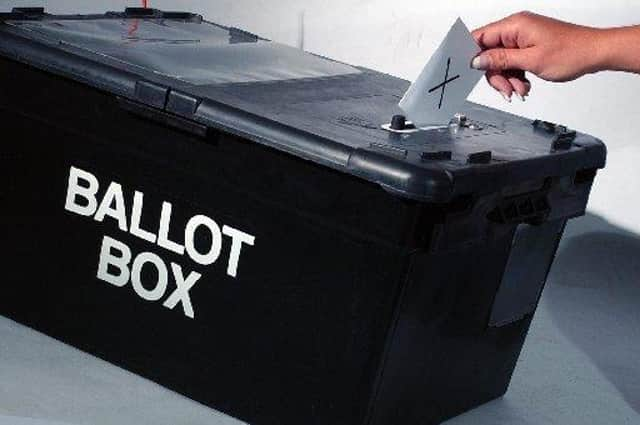 Voters go to the polls on Thursday.
In this special report, we spotlight the fight for the Falkirk East constituency.
Am I in this constituency?
Falkirk East constituency in the Scottish Parliament includes the towns of Grangemouth and Bo'ness but also stretches into parts of Stenhousemuir and as far as Limerigg. You can check which constituency you live in on the Local Government Boundary Commission website.
The SNP's Angus MacDonald won the seat from Labour's Cathy Peattie in 2011 and held on to it comfortably in 2016, taking over 51 per cent of the vote. Last year, however, Mr MacDonald announced that he was standing down as an MSP and returning to his roots the Western Isles.
There are five candidates standing in this year's election: Neil Benny, Scottish Conservative & Unionist Party; Allyson Black, Scottish Labour Party & Scottish Co-operative Party; Peter Krykant, Independent; Paul Rolfe, Scottish Liberal Democrats; Michelle Thomson, Scottish National Party (SNP)
Here they tell us, in their own words, why you should vote for them.
Neil Benny, Scottish Conservative and Unionist Party:
"I am a councillor in Stirling where I live with my husband, Ismael.
"I want to become an MSP to represent you and your interests at Holyrood.
"The SNP will always use their position in Parliament to campaign for independence, and it doesn't matter to them about how bad that will be for our community.
"They want to break up the country and that is the only reason they get involved in politics.
"I got into politics from a drive and a desire to get things done and help people in my community.
"Here in Falkirk East, I see the problems that beset our community. I see housing schemes built without enough GP surgery capacity and not enough school places.
"I see people stuck without training opportunities to get into the new jobs that are here in our community.
"I see places away from Falkirk town centre, like Bo'ness and the Upper Braes neglected by an underfunded and distant Council.
"We need real change in Scotland, and we need real change in Falkirk.
"This election will decide whether we get change or have another five years bickering about breaking up the UK.
"If you vote for me, it will be a vote to speak up for our community.
Allyson Black, Scottish Labour Party and Scottish Co-operative Party
"I'm standing as the Scottish Labour Party and Scottish Co-operative Party candidate because our area has been neglected.
"We have not had strong representation at the Scottish Parliament. Voting for me will change that.
"Falkirk East is strategically important to the national economy. Yet look around, we lack good infrastructure, our communities suffer inconvenience, while child poverty, in-work poverty and fuel poverty rises. Our communities deserve better.
"I am hard working, honest, determined and reliable, I will stand up for Falkirk East, giving 100 per cent to make sure our area becomes a better place to live and work.
"Our country does not need another divisive referendum. We must concentrate on getting Scotland back on its feet, most people agree and are more concerned about the NHS, the economy and our young people's education.
"These are my party's concerns. We will create new jobs, train and recruit more nurses and doctors, properly fund councils and create more opportunities for school leavers, preserve the jobs we have while we transform older industries to newer green technologies.
"The divisions of the past must be left behind while we work together for a better future for us all."
Peter Krykant, Independent
"One in five Falkirk Bairns live in poverty, with high youth unemployment, rural areas with limited heating options, rising public transport costs, difficulty accessing health services, spiralling mental health and drug issues, school funding cuts, and an underfunded council.
"I speak to these issues from experience, growing-up the grandson and son of coalminers, struggling in my youth with mental health and drug addiction, leaving school without qualifications, and spiralling into homelessness.
"I am not ashamed of my past, but proud of the changes I made - achieving qualifications, a successful 20-year career in business management, and a recent career change to health and social care- helping others recover stability through care, compassion, and service access.
"I live in the Falkirk area with my wife, a university Professor, and our two boys.
"In addition to my experience, qualifications, and service to the most vulnerable in Scotland, I bring passion and compassion to represent your needs as a community.
"I promise to listen to all local voices, engaging across party lines, seeking solutions for post-covid recovery for small business, and investment in Falkirk Council's education, social-care, and health services.
"As the parties move towards a referendum post-Brexit, we must have local voices represented. I can truly fight for investment in our local economy and will not 'toe a party-political line'.
"The choice in Falkirk is clear, 'politics as usual'- including those with no connection to our area and beholden to their parties- or a local Bairn who will stand up for Falkirk."
Paul Rolfe, Scottish Liberal Democrats:
"My interest in politics began as a teenager, when I first noticed a young Liberal Stuart Mole was challenging the old guard conservative MP in my local town and ever since I have been in tune with the broad principles of Liberalism.
"To me the Liberal Democrats are centre politics and not extreme to the left or right. Which often pans out to be the right choice in many real-life situations. The ability to find a result where everyone feels they have won, and not just a loser.
"I also want people to be treated well and not secondary to profits and power or the extremities of the far left.
"As a local person who lives in his constituency, I have been involved with thousands of local families through my works and I feel I am in tune with the needs and issues around Falkirk East, Grangemouth, and Bo'ness.
"In a few words - fairness - health - economy/jobs - education and housing are the subjects I am most concerned about.
"Plus, just helping and representing local people are my aims. I want to put recovery first and help my local constituency to bounce back from the disruption of the virus."
Michelle Thomson, Scottish National Party (SNP):
"I am a working mum, experienced and dedicated businesswoman, community representative, talented musician, humanitarian, and political activist working towards a
better independent future for Scotland.
"I have the experience, determination, and the ability to be your voice in Scotland's Parliament.
"I have experience in representing those who believe their voices aren't heard.
"From holding people in power to account over their failures, like Sir Philip Green's disgraceful treatment of his BHS employees, to ensuring businesses are given the opportunity to flourish.
"I also spoke publicly, as an MP, about being raped at the age of 14 in a speech described as ground-breaking.
"I will always be on your side - backing you up on this journey together.
"This is the most important election in Scotland's history. We need the powers to chart our own course.
"We cannot simply accept the course Boris Johnson and Westminster choose for us and be told that we must meekly accept it by both Labour and the Tories.
"The SNP offers a manifesto brimming with ideas of how we can do better.
Our young people deserve better. Our communities deserve better. You deserve better.
"I will be a champion for you and for Falkirk East."