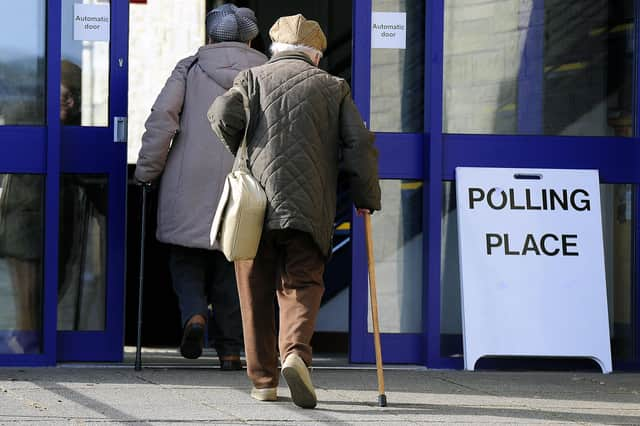 Voters go to the polls on Thursday.
In this special report, we spotlight the fight for the Falkirk West constituency.
Am I in this constituency?
Falkirk West covers the Falkirk council area, including all of the council wards Denny and Banknock, Bonnybridge and Larbert and Falkirk North. It also takes in part of Carse, Kinnaird and Tryst and part of Falkirk South, although these are both shared with Falkirk East constituency. You can check which constituency you live in on the Local Government Boundary Commission website.
The SNP's Michael Matheson has been MSP for the Falkirk West constituency since 2007 and in 2016, he won a comfortable victory, taking nearly 57 per cent of the vote.
Falkirk West has four candidates: Monette Gordon Scottish Labour Party; Stephen Kerr, Scottish Conservative and Unionist Party; Michael Matheson, Scottish National Party (SNP); and Austin Reid, Scottish Liberal Democrats
Below, they tell us in their own words why they deserve your vote.
Monette Gordon, Scottish Labour Party:
"I grew up in Cumbernauld and left school with no qualifications amidst the poverty and despair of the late Thatcher years.
"Thankfully, I was able to return to study as an adult learner and secure the qualifications needed to work as a software engineer.
"My family moved to Falkirk 15 years ago, I have raised my children here and we can't imagine living anywhere else.
"The last year has been tough for us all.
"Here in Falkirk like in the whole of Scotland, town centres have been neglected, health services are in crisis, educational standards have fallen and jobs have been lost.
"If elected I will put these issues first and will fight for sustainable, secure employment, investment in our schools, restoring our NHS, get cancer treatment back on track and give carers the pay they deserve.
"The recovery must include new climate solutions that work for all of us and the planet with a focus on green jobs.
"This election must be about you, your family and our national recovery. Most of all community recovery is what is at the heart of how we move forward after the pandemic and this will be foremost in all my recovery plans."
Stephen Kerr, Scottish Conservative and Unionist Party
"After a career in sales, leading teams and serving customers, I was a Member of Parliament until December 2019 and have lived in the Forth Valley for 38 years.
"You have a choice. Another five years of division over breaking up Scotland or uniting and rebuilding our country.
"Our priority must be recovery, not another referendum. If elected, my focus will be on jobs and the businesses that create them with opportunity for all and training.
"We will get record investment into our NHS, so doctors and nurses have what they need to clear the backlog of treatment.
"We owe it to our young people to restore Scottish education. We will recruit 3,000 additional teachers, reduce class sizes, and see that every child in Primary school is learning with a full tummy.
"We need to tackle violent crime and drugs. We need more police officers on our streets and the law must be on the side of the victims of crime not criminals.
"And we will put it into law that councils get the funding they need to deliver local services.
"The SNP have been stealing their funding for years. Local powers for our community rather than Government dictating everything. The SNP 'power grab' of recent years must be put into reverse. Don't wish for a
better future, vote for one. Vote Scottish Conservative.
Michael Matheson, Scottish National Party (SNP)
"Scotland needs the strong leadership of a progressive SNP Government to
steer the country through the coronavirus pandemic and the fallout from
"It has been the privilege of my life to be Falkirk West's MSP since 2007
and I've built a track record of delivering for the constituency and throughout
the pandemic my staff and I have worked harder than ever to support my
"I have also built up good relationships with local businesses, community
groups and charities, organised jobs and funding fayres to help unlock
employment and funding opportunities for local people, and actively supported campaigns such as Changing Places and Cycling Without Age that promotes social inclusion.
"In addition, if re-elected the SNP are committed to helping families with the
introduction of free school meals for primary school pupils and the doubling of
the Scottish Child Payment.
"My experience of serving as your MSP will prove invaluable as we work
together to create a fairer, greener and more prosperous Scotland and after
the pandemic is over ultimately give the people of Scotland the opportunity to
"I ask for your vote so I can stand up for communities, families and residents in
Austin Reid, Scottish Liberal Democrats:
"My involvement in politics started as a founder member of the Liberal Society of Queen's University of Belfast, at a time when the Liberal Party of Northern Ireland sought to provide a middle democratic ground between the antagonisms of Unionism and Republicanism. I left Queen's with a PhD in artificial intelligence,
"Since 2015, I have been the Secretary of the Central Scotland Liberal Democratic party and stood for the Westminster seat of Falkirk in 2017.
"I have contributed to the development of further and higher education in England, in Scotland, Mexico, Malawi, and Hong Kong. As Director of consultancy firm 'WBL Consultants' I led a World Bank funded project culminating in a new university in the Royal Kingdom of Bhutan,
"I have lived locally since 1992, and I am actively involved in the local church, I am a member of the community council, and the founding secretary of the Falkirk branch of the University of Third Age (U3A).
"I am concerned at sectarianism and nationalism in Britain, in Europe and in the USA; an approach which replaces reasoned dialogue and cooperation with antagonism. Also with the increasing tendency in society to concentrate on "me" and "I" rather than on "we" and "us", to the detriment of community cohesion.
"In local terms, I want the voice of the local community to be heard. I am from Bo'ness and I am concerned that the current review by Falkirk Council of its property throughout the Council area may lead to the impoverishment of the outlying area at the expense of the centre. The identity of the many local communities throughout Falkirk needs to be protected and enhanced."