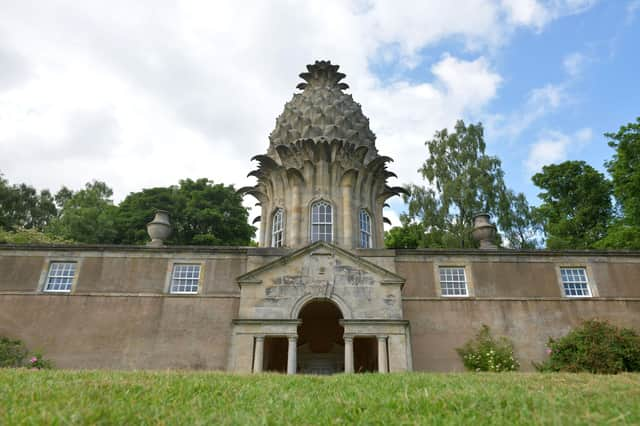 The plan has proved to be controversial.
The conservation charity says it fears the proposed development would disturb the setting of the Pineapple, which it describes as "one of Scotland's most exotic and celebrated buildings".
The objection also contradicts the planning application's design and access statement which states that the NTS welcomed the proposals and "future partnership for use of the centre and facilities".
The NTS refutes that, saying it has "not welcomed the proposed development, committed to a partnership, or identified the proposed visitor centre as of benefit to The Pineapple".
Dating to 1761, the A-listed building was constructed by the Earl of Dunmore as part of a purpose-designed landscape – and the charity fears that any development there would threaten that.
NTS Chief Executive, Phil Long said: "The Pineapple is one of the most significant buildings in Scotland and its unique ambience is dependent on its setting within Dunmore Park with its woodland and abundant wildlife.
"It is clear to us that this development scheme would have a hugely adverse impact on the site."
Previously, an outline plan for a visitor centre along with 22 bungalows – on 15 hectares of land at Airth Mains Farm – was approved by members of Falkirk Council's planning committee.
Many welcomed the plans, which promise to bring toilets, a café and shops as well as better parking and improved road access to the area.
However, after the outline plans were approved, developer George Russell said that a larger number of homes was needed to meet the costs of the planning conditions set by the council.
These include: a contribution towards active and passive open space; the provision of 25 per cent of units at the site as affordable housing; public transport; and a contribution to address the local healthcare impacts.
The locally-based construction company will also foot the bill for a new roundabout for the A905/B9124.
After an online consultation, the company submitted a new application for 82 homes, saying that without them the visitor centre would not be financially viable.
But the NTS is now calling into question whether a visitor centre would benefit the area at all.
In a statement, they said: "Contrary to the impression given in the developer's design and access statement, the Trust did not endorse the proposals and merely requested assurances on the ecological impact on rare species as well as clarification on the purpose of the visitor centre.
"No such assurances were forthcoming and the developer eventually withdrew the planning application for this initial scheme.
They believe that development of the site would set a planning precedent that may mean more of the area being re-zoned for development.
Mr Long added: "As we have seen all too often, inappropriately-scaled and sited developments have impaired or overwhelmed many important historic and natural landscapes and it's our obligation to ensure that this does not happen to The Pineapple."