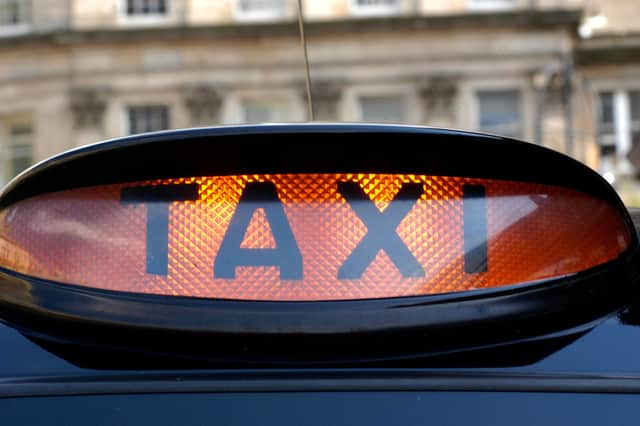 Illuminated taxi sign
Several drivers say the local authority's decree that all new taxis must be under three years old makes replacing their vehicles just too expensive.
Drivers say they would have to work over 80 hours a week to cover the cost of the finance - and that is no longer possible as trade has slumped by around 80 per cent because of the coronavirus.
For some, the rule has meant keeping an older car on the road for years longer than they'd like to.
For others, it's meant a choice between taking on massive debt or leaving the job altogether.
Several drivers have now written to Falkirk Council to argue their case.
The local authority has confirmed it could review the policy.
Councillors are set to discuss the vehicle eligibility criteria for taxi and private hire cars next month.
Stuart Watson said the new rule forced him to take finance out on a car he couldn't afford - and nearly ruined him when its engine went.
With two massive repair bills -for £3500 and then nearly £6000 - he had no option but to return the car.
Only a loan from a friend allowed him to buy a new vehicle, and stay in business.
He said: "If my car breaks down again, my wife and I are out of a job."
Another driver, Harry Brown, was frustrated at having to pay £2,500 more for a car registered in June, compared to the same type of vehicle registered in May.
"There were many cars for sale in excellent condition up to six years old with low mileage - but I couldn't use any of them because of this unfair and draconian policy," he said.
"In the past year many owner-drivers have struggled to survive and are running at a loss - jobs are definitely in the balance."
Another driver, with 30 years experience, was unable to get finance for a new car when the gear box on his Skoda Octavia went.
Unable to buy a new one and facing a repair bill of £4800, he eventually left the trade.
The council introduced the policy as an environmental measure to ensure that cleaner cars with lower emissions are on Falkirk roads.
But taxi owner Brian Arthur argues that hybrid engines are not the answer.
He said: "I'm an environmentalist but the fact is that hybrid cars are still getting power from petrol or diesel.
"Yes, you can get a fully electric car but where I live I can't get parked near my home so there's nowhere to plug it in.
"The bottom line is that it should be about CO2 emissions, not age restrictions."
A Falkirk Council spokesperson said: "Vehicle eligibility criteria for taxi and private hire cars will be reviewed as part of the wider Policy Development process.
"The Policy Development Panel hope to meet in in February where they will continue their work programme on a number of taxi / private hire car related issues."
The council has also been in touch with drivers who may be eligible for a grant and will contact them again soon when the system is live.
Thank you for reading this article on our free-to-read website. We're more reliant on your support than ever as the shift in consumer habits brought about by Coronavirus impacts our advertisers.
Please consider purchasing a subscription to our print newspaper to help fund our trusted, fact-checked journalism.