Kincardine Health Centre: More politicians show their support for campaign for new facility
Two more politicians have joined the campaign to reverse the Scottish Government's decision to withdraw funding for the new Kincardine Health Centre.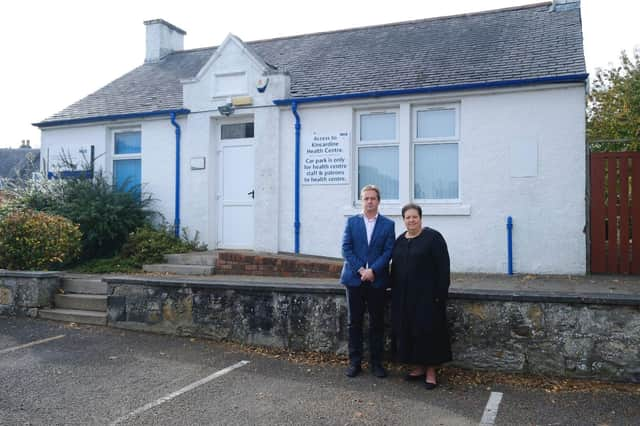 A Fife Labour councillor and a Labour MSP have both leant their support to the Kincardine health centre campaign this week – urging the government to keep its promises to the local community.
Councillor Graeme Downie (Labour for West Fife & Coastal Villages) organised a public meeting on Tuesday to build support for a new Kincardine health centre. He estimated that 25 people or more were in attendance.
The current health centres in both Kincardine and Lochgelly are in desperate need of replacement. Cllr Downie pointed out that the Kincardine Centre is currently housed in a cottage from the 20th century – which is not fit for purpose.
NHS Fife has also acknowledged the issues at the current health centres – calling them "older facilities which no longer meet the needs of the local populations".
Both communities have long been promised new health centres, but plans have never materialised. Then in March, the promises faced another delay – the Scottish Government announced that funding will not be confirmed until the "second half of the decade."
The announcement sparked backlash from politicians and the community alike. Cllr Downie's public meeting is the latest in a series of campaign efforts to force Holyrood to keep its promise to Kincardine and Lochgelly communities.
Cllr Downie also criticised the Scottish Health Secretary, Michael Matheson, for failing to visit Kincardine and explain the government's decision.
"It is outrageous that the person responsible for breaking their promise to the people of Kincardine to provide a new health centre is too scared to come and explain that decision to the community," Cllr Downie said.
The Scottish Labour Health spokesperson, MSP Jackie Baillie, leant weight to Cllr Downie's latest campaign this week. She pledged to raise the issue at Holyrood with SNP Health Secretary Michael Matheson urgently.
"This health centre is vital to the local community, but Mr Matheson has not even taken the time to explain this decision to the people he's letting down. I will be raising this issue in Holyrood and hope to hear from Mr Matheson soon," she said.
Cllr Downie added: "I am delighted to have the support of Scottish Labour and Jackie Baillie MSP and I am sure with her help at Holyrood we can continue to press the SNP Scottish Government to do the right thing and bring back the funding that this centre so desperately needs."
Cllr Downie's public meeting comes just days after SNP MSP Shirley-Anne Somerville (Dunfermline and West Fife) secured a meeting with the health secretary. Mr Matheson will not be visiting the Kincardine Centre as part of the meeting, but he will be sitting down with Ms Somerville and a SNP Fife Councillor to discuss the community's concerns later this month.