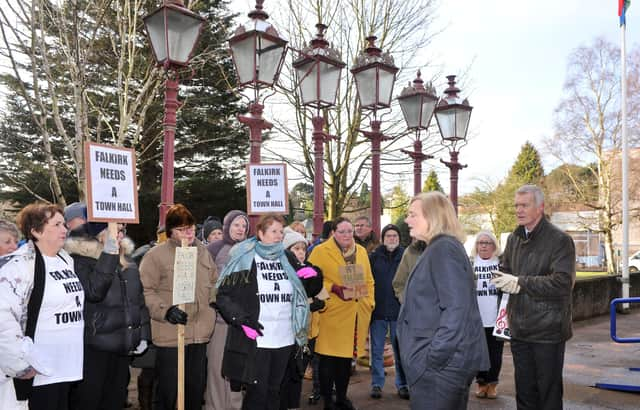 Campaigners gathered outside the Municipal Buildings last week ahead of the budget meeting. Pic: Roberto Cavieres.
The decision to cap spending at £45 million was taken at last week's budget meeting when a Labour proposal was backed by the Conservative group.
The council had previously given the go-ahead for two proposals to go out to the market – for a 550-seat theatre with office space for either 300 or 500 council staff – but the £53 million price tag will no longer be affordable.
Mrs Meiklejohn said: "I am really disappointed at the outcome that has caused us further delay in taking forward our headquarters and town hall as it will impact on the council's reputation with potential developers.
"It will impact on the town centre, showing indecision and uncertainty, and as a result we could be losing jobs.
"The project now requires to go back to the beginning and the design stage.
"It will have to come up with an arts centre much reduced in size and that will not attract even the level of performances we currently have.
"The other alternative is to do without an arts centre which won't give us the impact of regeneration.
"The whole project now comes to a halt and we have to go back to the drawing board. It will be a delay of a year or 18 months to go out to the market again."