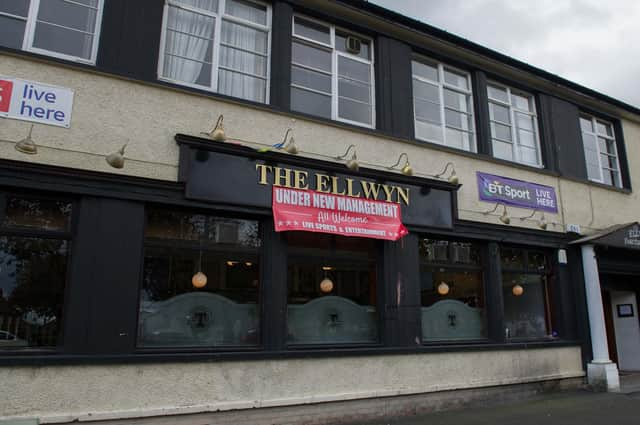 Photograph Jamie Forbes 4.10.18 The Falkirk Herald Pub of the Year 2018. Denise McLuckie at The Ellwyn, Grangemouth.
Police Scotland asked Falkirk Council's licensing board to take a close look at the Ellwyn Bar, 95 Newlands Road, when it met online on Thursday.
Presenting the chief constable's case, Sergeant Liam Livingston told the board that reviews were unusual but this was the third time since 2018 the Ellwyn had been before the board.
He listed "numerous incidences of violence and disorder" in the past year as he suggested the licensing objectives of preventing crime and disorder, securing public safety and protecting public health were being breached.
The calls to the police included a string of assaults, fights, disorder and threats of violence being reported.
He told the board that on three pro-active visits made by police only one bar steward had been on duty, despite a condition that there must be two on Friday and Saturday evenings.
They also heard there was no evidence of a trained first aider - another condition from a previous review.
Calling an intervention meeting to discuss this, police said the management structure was "chaotic".
At that meeting, Ellwyn owner Amran Ali - who is also the premises licence holder - had assured police that there had been two stewards but one had fallen ill, gone home and been replaced after 40 minutes.
However, when police checked CCTV they clearly saw one steward on duty all evening, with another only arriving after midnight.
Falkirk Council's environmental health staff then showed the board CCTV from September.
The footage showed people gathered round the pool table; a man dropping his trousers and 'mooning', a fight breaking out and a member of staff hugging a customer.
They also noted people not wearing face masks properly, pool cues not being cleaned, and people gathering closely round the gaming machine.
The board heard that Mr Ali lets the property out to tenants and is not involved in its day to day running.
However, the tenant at that time did not have a personal licence and therefore could not legally be a premises manager.
Solicitor Dick Sandeman told the board that Mr Ali also owns and runs the adjoining Costcutter store and a terrible experience with previous tenants had led to the two previous reviews.
But he accepted that as premises licence holder Mr Ali had a 'vicarious responsibility' and that he had written a new management structure he was keen to put in place.
The lawyer disputed whether many of the incidents could be called serious and pointed out that many of the calls to police were from staff themselves.
He added that the staff member seen on CCTV breaking Covid rules had been dismissed and they had changed security providers.
The board found there were grounds for a review with regard to preventing crime and disorder and protecting public health.
It will anounce any sanctions on December 16 at its next meeting.
Thank you for reading this article on our free-to-read website. We're more reliant on your support than ever as the shift in consumer habits brought about by Coronavirus impacts our advertisers.
Please consider purchasing a subscription to our print newspaper to help fund our trusted, fact-checked journalism.