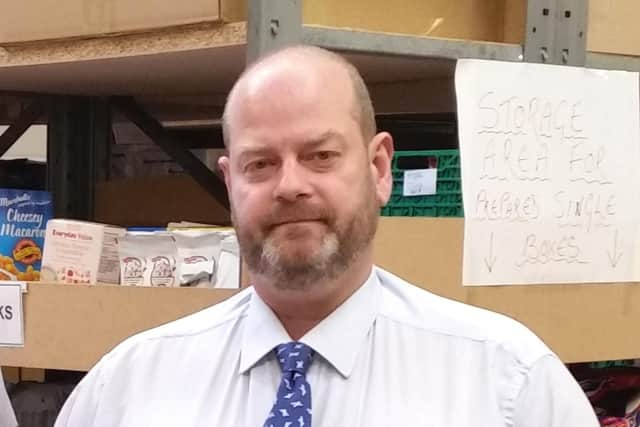 Councillor David Balfour
SNP Councillor David Balfour's came at a meeting of the local authority's scrutiny committee.
He said: "We had a recent issue in Grangemouth where memorial trees were ripped out and burnt in one of the parks. It turns out we have no community safety team or enforcement officers to cover these areas.
"There was a lot of damage done and a lot of very, very unhappy people in the community because of this and it just seems we've got nobody to turn to now to cover these areas for vandalism."
Mr Balfour raised his concerns at the committee where members look at how services are running and how previous decisions are working.
Last year, budget cuts forced the council to make changes to its community safety team.
Some officers were moved to focus on issues such as fly tipping and litter while others became part of the council's housing team, which has six officers on patrol.
Councillor Balfour said he had asked for extra patrols in the park but has since been told they don't cover vandalism.
"Unless its dog fouling or litter, they just don't do it," he said. "This is just not acceptable.
"We had a good service before with the community safety team and now we don't have that.
"We need some form of help if there are issues in the area that are not about housing and we just don't have it."
"We need to have a look at that - there is definitely a big change in the service and we need that sorted."
Douglas Duff, acting director of development services, said there are still enforcement officers and they will refer any damage they see to the police.
"We do maintain a level of service, but not to the level that has been offered in the past due to savings that had to be affected," he said.
Kenny Gillespie, head of housing said: "Previously there had to be some hard decisions made about this team.
"But there are community teams within housing and they won't ignore it. If they see things they will pick them up and deal with it.
"We will work with our community partners and police to resolve things where we can."
Another Grangemouth councillor, Allyson Black, agreed it was necessary to look again at how they are helping people to feel safe in their own homes.
The Labour councillor said the council should be prioritising repairs for several broken front door entries in blocks of flats.
"People are feeling scared and the community warden team did a great job with sort of thing but they are stretched and they are not doing what they did before," she said.
"There are a lot of issues with anti-social behaviour in the parks etc. and people don't feel safe.
"That's a big priority and we need to look at that again."
Thank you for reading this article on our free-to-read website. We're more reliant on your support than ever as the shift in consumer habits brought about by Coronavirus impacts our advertisers.
Please consider purchasing a subscription to our print newspaper to help fund our trusted, fact-checked journalism.