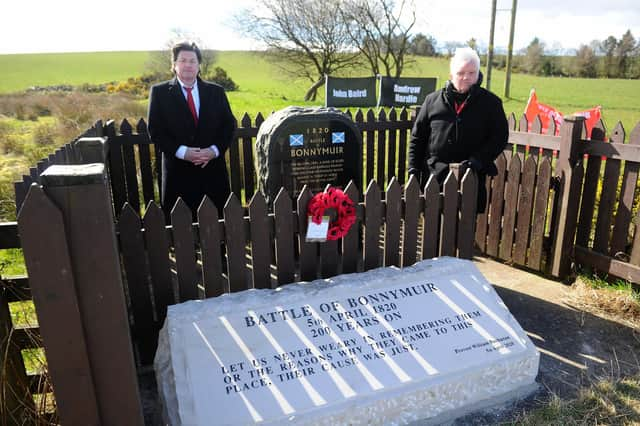 Provost Billy Buchanan (right) with Councillor Robert Bissett (left) lay a wreath on the new stone to mark the 201th anniversary (Pic: Michael Gillen)
It was ordered by the Provost last year to mark the bi-centenary of the landmark event, but he was unable to put the engraved granite stone in place due to lockdown.
The battle - part of the Radical War of 1820 - involved a small band of weavers who were part of a movement that aimed to improve the appalling conditions and poverty pay that working people had to endure.
Led by Andrew Hardie and John Baird - who were later hung and beheaded as punishment - they were marching from Condorrat to the Carron Iron Works where they planned to seize a cannon.
Provost Billy Buchanan (right) with Councillor Robert Bissett (left) (Pic: Michael Gillen)
However, betrayed by government spies, they were lured to a confrontation with well-armed, trained soldiers on Bonnymuir, near High Bonnybridge.
The working men fought bravely but were soon overwhelmed.
Provost Buchanan was hugely disappointed that the large ceremony he had planned to mark the special anniversary could not go ahead last year - but he decided he couldn't wait for restrictions to be lifted.
Instead a simple ceremony, on Monday, April 5, was attended by only two people, the Provost himself and Councillor Robert Bissett.
Provost Buchanan said: "We can't do it justice in terms of getting all the people there who should have been there to mark this historic event.
"But I can't leave it any longer and I am glad that the magnificent stone is now in place."
Thank you for reading this article on our free-to-read website. We're more reliant on your support than ever as the shift in consumer habits brought about by Coronavirus impacts our advertisers.
Please consider purchasing a subscription to our print newspaper to help fund our trusted, fact-checked journalism.