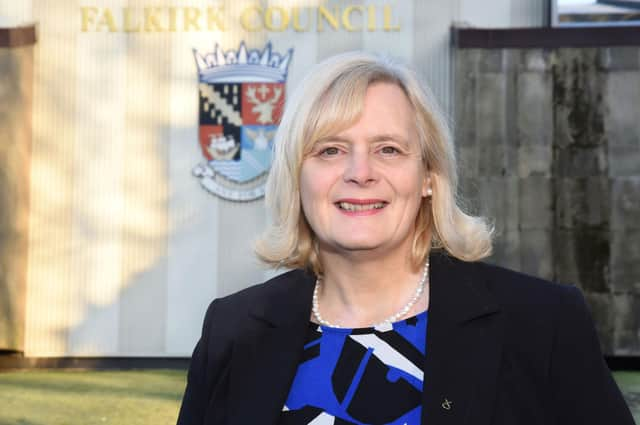 Falkirk Council Leader Cecil Meiklejohn
The external auditors' report said the council's books demonstrated "good financial control", while staff were praised for how they had reacted to the many challenges of Covid-19.
However, the council's financial stability was flagged as a risk by the auditors, who highlighted the council's budget gap which has been made even more challenging by the coronavirus crisis.
The auditors say they want to see more specific reporting of how Council of the Future savings have been made, members of the council's Audit Committee heard on Monday.
The council had hoped that its Council of the Future programme - when departments find more efficient ways of working to save cash - would help them save around £24 million by 2023/24.
But the impact of Covid-19 has meant that the projected savings has fallen to £17.4 million.
In particular, the pandemic has made it difficult for the council to change the way it cares for looked-after children as it aims to stop putting children into expensive residential care and find more young people foster homes in their own area.
That would not only be a significant saving for the council but also improve the lives of some of the district's most vulnerable children.
The council had also expected £9 million of savings to come from the Falkirk Integration Joint Board which oversees health and social care locally, while Falkirk Community Trust, which runs leisure and culture facilities on behalf of the council, was also expected to save £4 million.
However, both of these organisations have been hit hard by Covid-19 and finding savings will not be easy.
Council leader Cecil Meiklejohn said it was vital to look at the options.
She said: "We need to have some options on the table that we can start to flesh out and there's a sense of urgency with that."
Falkirk Council's chief executive Kenneth Lawrie staff pointed out that councillors also have a responsibility to make hard decisions.
"There is an onus on officers to bring forward options but there's also a real focus on members to show that collective leadership across the council to find good solutions to the budget challenges," he said.
Labour councillor Allan Nimmo told the meeting that he had been contacted by staff trade union reps with issues regarding the budget gap.
He said: "They have raised what I see as legitimate concerns about how staff raise issues and report what they see as suspicious, questionable, inefficient or wasteful spending or even suggest cost savings.
"These problems are highlighted to management on a regular basis but they tend to be ignored or even worse looked on as troublemakers."
Stuart Ritchie, director of corporate services, replied that staff are encouraged to contribute ideas.
"There's no doubt that employees on the ground have the best ideas because they see the processes we operate and the improvements that can be made," he said.