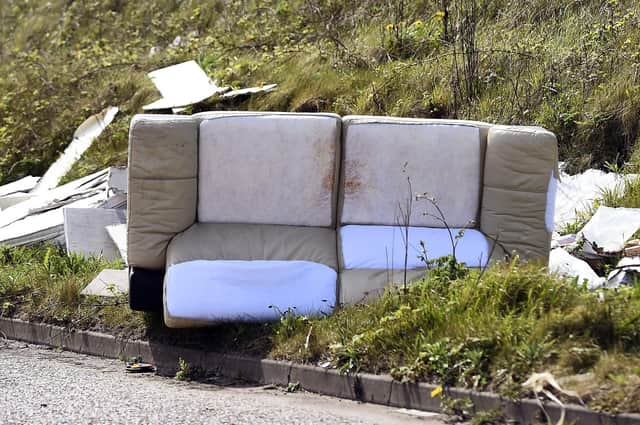 Pic Lisa Ferguson
The council spends £2 million every year cleaning up - but says this money could be better spent on other services at a time when budgets are stretched.
On Tuesday, members of Falkirk Council s executive agreed a new five-year strategy which says the emphasis must change from "cleaning up the mess" to "preventing the mess in the first place".
The report was finalised after six weeks of consultation with people around the council area.
It says that education - across the generations - will be crucial to changing attitiudes so that littering, dog fouling and flytipping become unacceptable.
It also aims to get more communities involved and councillors thanked the many community groups and schools pupils who are already involved in tackling hot spots in their own areas.
They also agreed that it was crucial to work closely with other landowners, so that people were not reporting litter and finding that no-one would take responsibility to clear it.
Waste manager, Douglas Gardiner, promised that there would be more dialogue with landowners such as Scottish Canals, Network Rail, Transport Scotland and Callendar Estates.
Councillors were assured that any groups who want to organise litter picks will get advice and resources from the council, although at the moment, all work must be done following social distancing guidelines.
Councillor Paul Garner, the SNP's spokesperson for the environment, said it was "well-informed and meaningful strategy that will make a difference".
However, he stressed that the services will take legal action when all other options have been exhausted.
He said: "We have to recognise that no matter how good our waste and street cleansing facilities are, no matter how much our communities assist, and no matter how much we promote anti-litter and fly-tipping messages there will still be those who continue to break the law.
"Because of this, our team of enforcement officers will continue to patrol our streets and issue fixed penalties were appropriate.
"I can also assure you that anyone who doesn't pay their fixed penalty will be referred to the sheriff officers and Procurator Fiscal."
Mr Garner also said he was keen to look at using 'litter-cams' - roadside cameras that can be used to catch people and send them fines.
Labour councillor Joan Coombes said she supported the strategy but was concerned that citizens were being asked to supplement services that have been cut due to shrinking budgets.
"Yes, the education is part of it, the community is part of it but everyone is noticing that services are now less and less," she said.
SNP Councillor David Alexander said he was disappointed in Ms Coombes' remarks and said they sent out the message that "the council is quite happy to turn pound notes into waste paper".
Conservative group leader James Kerr welcomed the report and said that education and clear messaging of the strategy would be key to any success.
Thank you for reading this article on our free-to-read website. We're more reliant on your support than ever as the shift in consumer habits brought about by Coronavirus impacts our advertisers.
Please consider purchasing a subscription to our print newspaper to help fund our trusted, fact-checked journalism.