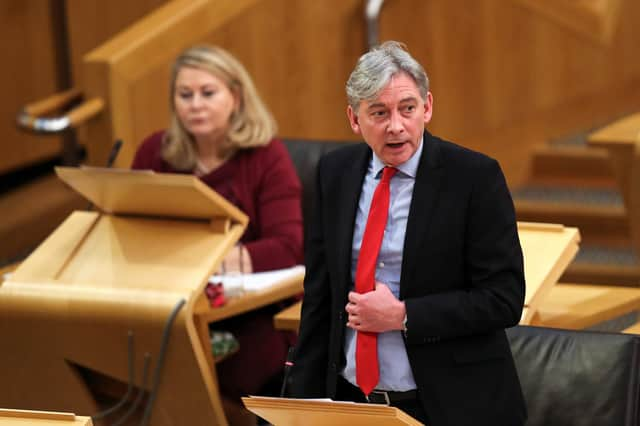 Richard Leonard has called for a Covid Debt Amnesty.
The proposals would see outstanding debts on household bills and council tax would be suspended for the duration of the current parliamentary session, due to end in May with the Holyrood election.
Party leader Richard Leonard said the amnesty could extend to those who were furloughed or left unemployed due to the pandemic or those on low pay.
He added debts to pay day loan companies, banks and credit agencies should also be more tightly regulated, calling on the UK Government to waive or curb interest payments and fees.
Calling on the suspension to be introduced as soon as possible, Mr Leonard said such a commitment could help the post-pandemic economic recovery.
He said: "Christmas and the New Year are always periods that lead to a surge in debt for poorer and hard-pressed families. Nine months of Covid hardship will inevitably make this burden so much worse for households.
"A huge personal debt crisis is being caused by Covid as people being furloughed or losing their jobs and others on welfare benefits are unable to pay their rents, mortgages and other essential bills. This is made worse by the high level of interest rates being charged and by unscrupulous lenders.
"This is causing immense stress and hardship for many people struggling to get by. It's also holding back a post pandemic economy recovery and could risk another financial crisis as the debt becomes unsustainable.
"The Scottish and UK Governments must use their respective powers to introduce a 'Covid Debt Amnesty' for furlough and unemployed workers as well as those on low incomes and benefit.
"Making this commitment over the Christmas and New Year period would go a long way to ease the debt worries that so many Scots have at this time of year, and which will have been intensified by Covid.
"Ministers in both Scottish and UK governments must agree a Covid Debt Amnesty now."
The Scottish Government pointed towards £350m in funding dedicated to ensuring those with the most need get support and said enforcement action on council tax arrears should not take place until after a Covid-19 income impact assessment has been done.
They said: "We are acutely aware of the financial impact the coronavirus crisis has had on many families, and are working hard to provide support for those who need it most over the winter.
"We have already acted to help those struggling with debt by increasing statutory moratorium protection from six weeks to six months. The moratorium, which is not yet available in the rest of the UK, allows a period for those dealing with debt to seek advice on solutions without the threat of action being taken.
"Most recently, we have invested up to £100 million through our Winter Plan for Social Protection - which includes £22 million to support low income families and our Self-Isolation Support Grant which offers £500 to low income workers who are asked to self-isolate and are at risk of losing income as a result."
A message from the Editor:
Thank you for reading this article. We're more reliant on your support than ever as the shift in consumer habits brought about by coronavirus impacts our advertisers.
If you haven't already, please consider supporting our trusted, fact-checked journalism by taking out a digital subscription.