Police use drug overdose reversal spray for first time in Forth Valley
A spray which reverses an opioid-related drug overdose has been used by police for the first time in Forth Valley.
Tuesday, 13th April 2021, 4:45 pm
Updated
Tuesday, 13th April 2021, 4:51 pm
Officers administered naloxone to a man who had become unresponsive following an incident in Grangemouth.
Forth Valley was one of three areas, alongside Glasgow and Dundee, chosen to be part of a pilot project which taught police how to use the nasal spray.
Two officers, who were among 780 volunteers to participate in the training, were alerted by a Scottish Ambulance Service crew to a man who was "possibly under the influence of drugs" near SPAR in Grangemouth on April 1.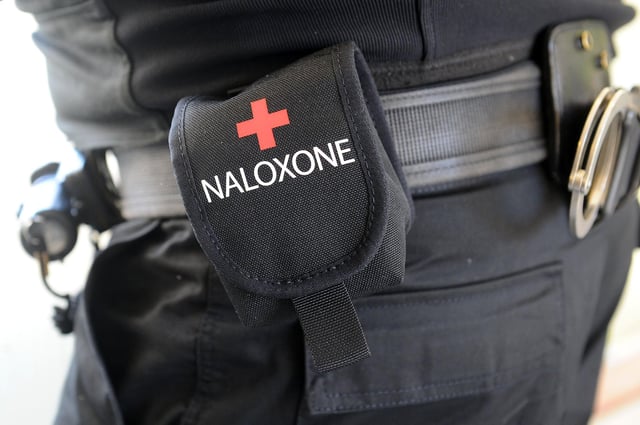 Police officers in Forth Valley have been trained to use naloxone to reverse the effects of an opioid-related overdose. Picture: Michael Gillen.
Chief Inspector Craig Walker, new Falkirk Area Commander, said: "Before we could get there, the ambulance staff were first on the scene and reported the malnwas refusing treatment and being aggressive.
"The two officers attended. No offences had been committed, albeit he was refusing medical attention, and the ambulance staff left.
"Officers then assisted him, with a view to removing him from where he was, and put him in a vehicle.
"During the journey he calmed down and his responses stopped so the officers provided assistance.
"He was unresponsive and his breathing was shallow so the officers followed their training, called 999 and spoke to the ambulance staff to make sure an ambulance was en route – and then used their training to provide whatever first aid they could to give the person a chance of recovery.
"There was a chance the person had taken an opioid so police used their naloxone spray. They monitored him and decided to give him a second dose, which was allowed under their training."
Although the man didn't come round initially, his breathing became "more regulated and even" and an ambulance crew soon returned to the scene to provide further medical treatment.
The incident will be analysed by an external team of academics who will independently evaluate the officers' use of naloxone as part of a six-month study designed to form any future decision on force-wide roll-out of the training.
The pilot was approved in 2020 as part of a national public health response after the number of deaths from drug misuse in Scotland reached its highest total for the sixth year in row.
Assistant Chief Constable Gary Ritchie, head of drug strategy for Police Scotland, said: "There has been a great deal of careful consideration given as to whether our officers should carry naloxone as an additional piece of equipment and consultation has taken place with a range of partners through the Naloxone Delivery Steering Group.
"In doing so, it is hoped the test-bed areas will show the value of our officers carrying this treatment as an extension to the existing extensive first aid training already provided by the organisation.
"We are committed to being proactive in our approach to tackling problem drug use in our communities through harm reduction, as well as dispelling myths while upholding our ethos of keeping people safe in our local areas.
"This is one of the most significant test of change projects in modern policing in Scotland and could have a significant impact on the communities we serve.
"A full evidence-based evaluation of the test of change will be produced to inform any future decision whether naloxone is rolled out to all officers."
Thank you for reading this article on our free-to-read website. We're more reliant on your support than ever as the shift in consumer habits brought about by coronavirus impacts our advertisers.
Please consider purchasing a subscription to our print newspaper to help fund our trusted, fact-checked journalism.