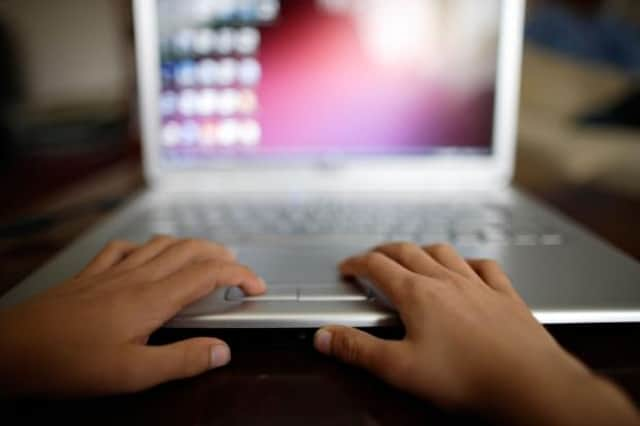 Working from home has become a new way of life for many employees
Normally based at the Forum in Falkirk's Callendar Business Park, management systems officer Stewart Love (54) now works from his home in Bainsford.
He said: "I look after the council's quality management system within housing services. I started in 2012 but I've done it as a job for years. I've been working from home since last March. I quite enjoy it.
"I think we were quite lucky due to the fact the council had a structure in place to allow us to work from home. It had a computer system so we could connect remotely from our own, and we had laptops as well.
Chris Roy (Picture Michael Gillen)
"Our job is one that, with a lot of the procedural stuff, you can do remotely.
"Audits have been the biggest challenge. We get audited by our external body – that was quite challenging because we had to gather all the information beforehand.
"The other challenge was internet connection problems at the start. I think the number of people working from home put a lot of strain on the network."
There are some aspects of the Stewart's job which have actually been made easier.
Stewart Love, Falkirk Council management systems officer. (Picture Michael Gillen)
"Our normal office is open plan and you're dealing with sensitive issues. I found you could be a lot more open with people because you weren't confined to an office. You get more privacy working from home.
"I think the model for the council will be pretty similar for most businesses. I think we'll maybe go back to the office part-time. It'll be more for face-to-face meetings, but I think they'll be limited."
Chris Roy (48) is a conflict resolution officer with Falkirk Council.
Like Stewart, Christ is also normally based at The Forum within Callendar Business Park. He has been working from home since the pandemic began.
He said: "My job role is to investigate and resolve complaints of antisocial behaviour and neighbour disputes. Working from home has provided many challenges, but on the whole I quite enjoy it.
"The most challenging thing is balancing home and work life with a partner also working from home and three children being home schooled.
"I was sent home on the day we first went into lockdown in 2020 feeling rather unwell, later that day I was diagnosed by the GP as having COVID-19. Since then I have worked from home right through the pandemic.
"Working from home was quite difficult at first, not being able to carry out some elements of my job, and having no real interaction with colleagues, feeling a bit isolated."
Ever improving technology has helped Chris – and thousands of other home workers – with that problem.
Chris said: "The team and management pulled together and formulated plans and procedures which helped us adapt and overcome those issues – with having team chats via Microsoft Teams to break that feeling of isolation.
"Part of my job is to go out and meet clients, and through the complete lockdown periods this has not been possible. On the whole, people have been very understanding and we have managed to use telephone interviews, email and even Zoom as a way of engaging with people and providing a high level of service.
The home working experience has been a good one for Chris and one he wants to continue if and when the world returns to some normality.
"I see little reason or need to return to an office environment full-time," he said. "We have learned some stark lessons from this pandemic, and if we were all to go back to be herded into offices – if there was something deadlier that came along – we would be in real trouble.
"The only element of being back in an office that I do miss is that face to face social interaction with colleagues."
Like Chris and Stewart many Falkirk home workers may be missing face to face interaction with colleagues, but they could be saving money by no longer commuting to work.
According to recent figures compiled by price comparison website Confused.com, 65 per cent of UK workers have worked from home at some point during lockdown and this has resulted in some of them saving hundreds of pounds.
The new study states employees who would normally take the train to work each day make the biggest savings while working from home, as the average commute costs them £136 per week.
Meanwhile, the average daily cost for a worker commuting by car was £16 per day, or £80 per week.
Louise O'Shea, Confused.com CEO, said: "It's the time of year when we're all taking a step back and looking at our finances to see how we can make better financial decisions going forward.
"For those who are fortunate to still be working, doing so from home has saved hundreds of pounds – although I imagine many people used this to treat themselves and their families to things they wouldn't otherwise have had.
"We also want people to understand they can save even more. Anyone who is driving less, regardless of whether they're working or not, should let their insurer know they won't be driving as many miles this year – it could bring their insurance price down.
"And people who are spending more time at home and have seen their energy bills increase should go online and look for another deal – you could save even more money."
Thank you for reading this article on our free-to-read website. We're more reliant on your support than ever as the shift in consumer habits brought about by Coronavirus impacts our advertisers.
Please consider purchasing a subscription to our print newspaper to help fund our trusted, fact-checked journalism.